Telematics systems, in particular, have been widely embraced by the sector and have come to play a central role. This technology, and the insights it provides, is also delivering ongoing improvements in fleet safety. More new technologies are also emerging to complement telematics and also making a significant contribution to driving up road safety standards.
If anything, the pace of technological innovation in fleet management and motoring as a whole looks set to quicken over the coming years. Here, we will take a quick look at five technologies which are having a particularly positive impact on fleet safety standards.
1. In-vehicle cameras with telematics integration. These have become particularly widely adopted within the fleet industry over recent years, and have obvious advantages with regard to providing protection against fraudulent insurance claims. These cameras also enhance the ability of managers to monitor the performance of drivers without having to be physically present inside the vehicle itself. This gives them further important insights into driver behaviour, in effect bringing data to life and also serving as a powerful training tool.
2. Driver scorecards. These have become an important tool in monitoring changes in driver performance, and in improving fleet safety standards across the board. Scorecards evaluate driver performance across a range of driver metrics, drawing on data recorded by telematics systems. They can then be used to track risky behaviours and reward those drivers who either consistently meet high safety standards or make significant improvements in this area. These scorecards can also be used to form the basis of driver league tables and associated incentives to encourage good road safety.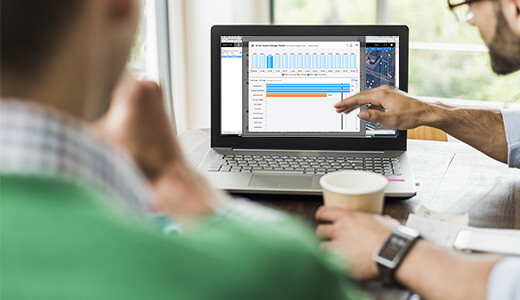 3. Electronic measurement of drivers' hours. Drivers are subject to a range of restrictions on the hours they can work, and it is legally incumbent on fleets to ensure that the relevant working hours regulations are adhered to. Those fleets that fail to ensure adequate compliance could be subject to severe sanctions. Remote tachograph reporting greatly simplifies compliance by allowing managers to monitor driver working patterns quickly and easily, thereby significantly reducing the risk of any breaches.
4. Preventative and predictive maintenance. Ensuring regular and adequate vehicle maintenance is a core responsibility for fleet managers. The introduction of fleet tracking systems has again simplified this process to a significant extent. Managing fleet maintenance is now easier than ever before thanks to automated vehicle monitoring systems, which provide managers with alerts when maintenance is due or a particularly urgent mechanical issue arises. Effective maintenance also has an important bearing on health and safety. Fleet maintenance is a key health and safety issue, and as part of employers' duty of care towards their workforce, it is incumbent upon fleets to ensure that vehicles and equipment are properly maintained. In addition, preventative and predictive maintenance help to reduce the risk of unscheduled downtime, and prevent the costs associated with it (which can be extensive).
5. Prevention of distracted driving. Distractions are a major safety risk when driving, and those who regularly drive long distances for work are likely to be particularly susceptible to it. Driver distraction is also a massive risk to businesses, and more fleets are taking proactive steps to prevent it. Rolling out driver scorecards and other solutions such as dash cams are among those steps, as well as phone block apps, which can disable certain phone functions while driving to reduce the temptation of using them when behind the wheel.
The rate at which new technologies are emerging shows no signs of slowing, and we can expect that this will continue to reshape fleet management in the years to come. The arrival of other new technologies, such as autonomous vehicles, self-parking and automatic braking is also likely to have an impact on fleets. This should facilitate further improvements in road safety, from which all road users stand to benefit.