UPDATED: 13 June 2023
Key Takeaways
Telematics is the technology used to monitor a wide range of information relating to an individual vehicle or an entire fleet. Telematics systems gather data including vehicle location, driver behaviour, engine diagnostics and vehicle activity, and visualize this data on software platforms that help fleet operators manage their resources.
Table of Contents
---
How does telematics work?

Fleet telematics gathers a range of data using Global Positioning System (GPS) technology, sensors and vehicle engine data to provide fleet operators with the information they need to manage their fleet. 
Global Positioning System (GPS) technology powers live visibility into vehicle location, speed and movement within points of interest through geofencing.
Cameras and sensors enable the capture of data on driver activity, including aggressive acceleration, harsh braking and erratic cornering, but sensors can be used to monitor any in-vehicle activity such as a door opening, tail lift raising and even trailer temperature. 
Engine diagnostics solutions pull data directly from the in vehicle diagnostics system and are primarily used to gather real time data on fuel efficiency and vehicle odometer readings that help power digital fleet maintenance solutions.
Driver apps are used to streamline processes and enable accurate operational data to be captured instantly. The most common applications are job management, pre-trip checklists, fatigue management and route compliance.
How does telematics work
The data is temporarily stored in a telematics device that in installed in each vehicle, and is then transmitted over private cellular networks to secure servers. It is this central data hub that enables fleet management software to provide easy-to-understand visualisations that help fleet managers optimize their operation.
Telematics systems: past, present and future

Telematics technology developed out of the rapid expansion of the internet from the mid-1990s onwards. The greater availability and practicality of telecommunications technologies that arose in tandem with this expansion also produced new forms of remote communication. Over the years, these developed into what we now recognise as modern telematics systems, and these have been particularly widely adopted over the last decade.
Telematics systems now enable firms to manage fleets of all sizes – from a handful of vehicles to hundreds – and help businesses to improve safety, implement sustainable processes and streamline tasks. Telematics has now developed to the point where it goes well beyond asset tracking to incorporate vehicle and driver performance, workflow applications as well as maintenance management. 
Telematics is also proving crucial in what has become known as the Internet of Things that Move (IoTtM); specifically, in transport and freight. These sectors have been leading adopters of IoT technology, with the data it provides allowing for more efficient routing and scheduling as well as resource optimisation. The IoTtM encompasses, location tracking, driver monitoring, engine diagnostics and digital workflow.
The benefits of telematics:
Telematics systems provide fleet operations insight that enables them to improve resource utilisation, driver performance and productivity. Here are the 5 key benefits of the latest technology.
Reduced fuel costs. With fuel consumption being one of the most pressing costs facing fleets, detecting and reducing excessive fuel use is absolutely crucial to overall efficiency. Telematics does this through more direct route planning, reducing job site bottlenecks and cutting engine idling, while also detecting unauthorised vehicle or equipment use (enabling firms to cut down on resulting fuel usage).
More cost-effective maintenance. Telematics warns managers of mechanical issues with vehicles and equipment, which allows them to address these problems sooner and thereby reduce the danger of downtime (which is not only inconvenient but can also have serious knock-on effects for other jobs). It also makes scheduling preventative maintenance simpler, which again helps to maximise vehicle and equipment uptime.
Better communication. Previously, keeping in touch with drivers and operators out in the field could be a complex business. Telematics simplifies communication processes and significantly reduces the need for human operators and drivers to check in and report back, automating much of this process. As well as ensuring that managers have access to the data they need faster, this allows operators to spend more time concentrating directly on the job in hand.
Enhanced safety. Another crucial consideration (and a central legal responsibility) for firms operating fleets of vehicles and equipment, safety is of paramount importance. Telematics improves safety management by monitoring both driver and operative behaviour, and vehicle and equipment performance. It allows anomalies – such as unsafe practices – to be detected and addressed quicker. It also allows for emergency assistance to be directed straight to the site where it is needed, through location tracking.
Streamlined workflow. Businesses are always looking to find ways to build competitive advantage and connected driver apps enable them easily implement digital processes that reduce the administrative burden on drivers, enable instant data transfer and respond quickly to customer needs. With effective digital systems businesses can serve there customers better and increase profitability.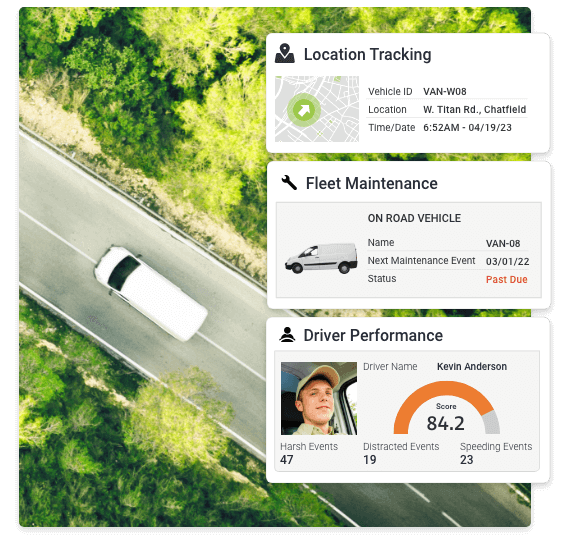 Telematics is also helping both industry and society adapt to the continuing challenges facing major towns and cities. The mounting pressure on urban infrastructure (particularly transport) requires industry to take innovative and imaginative measures; this has led to the rise of the so-called 'smart city'. This means, in a nutshell, using data and technology to maximise efficiencies (from energy efficiency to traffic management) and thereby make urban environments more practical, sustainable, secure and liveable for all concerned. 
Telematics devices and software
Most commonly, telematics data is collected by a small device installed in the vehicle (or other asset) itself. This collects stores and transmits different types of information relating to the vehicle's performance, condition and usage. There are different types of telematics devices available that offer different functionality and benefits. The most accurate and secure telematics devices are hardwired, these devices offer tamper proof functionality and a wider range of connectivity to peripheral devices.
Telematics devices are often connected to other in-cab driver interfaces that enable drivers to receive jobs, capture proof of delivery, complete pre-trip inspections and even get real time feedback on their driving performance.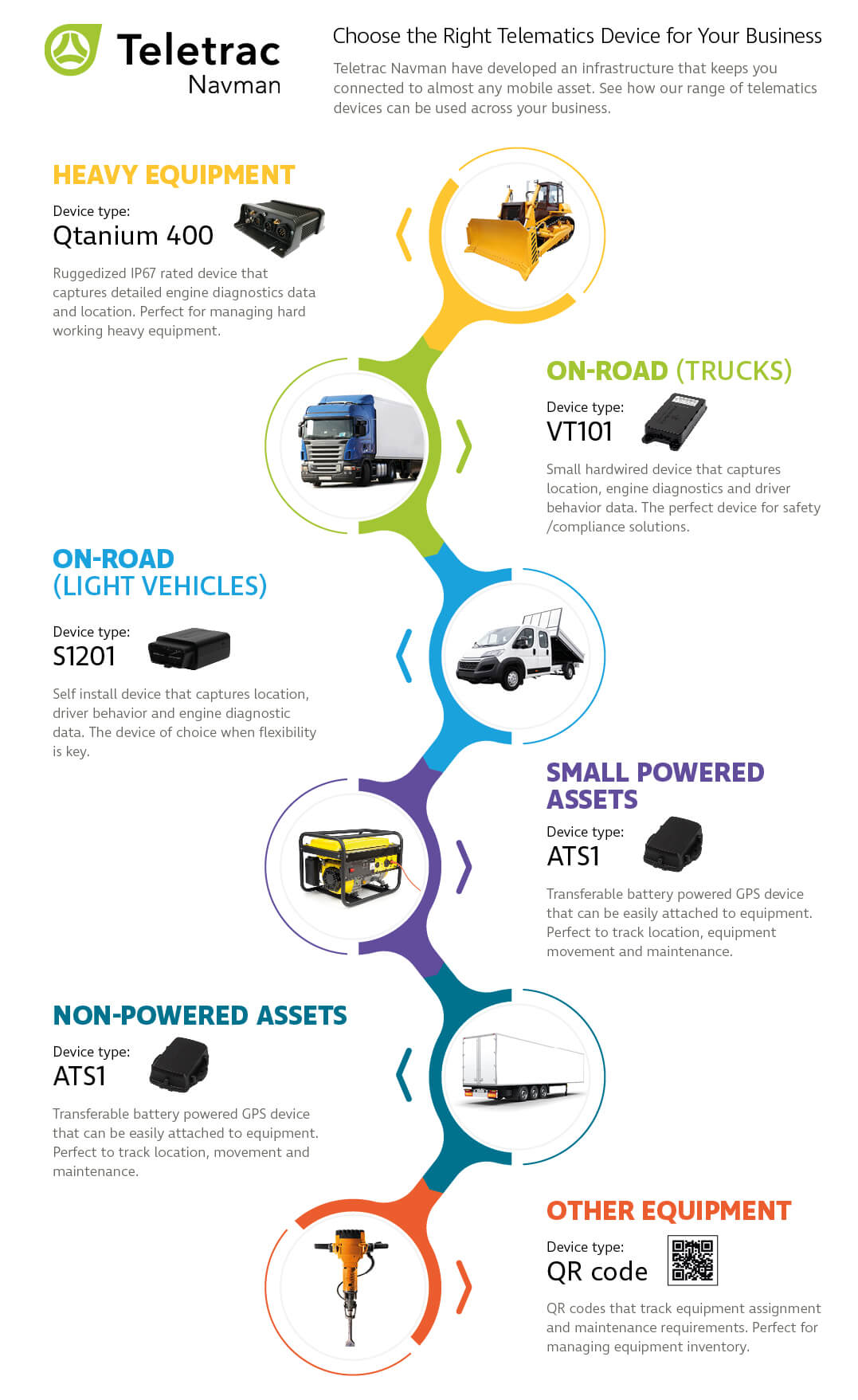 What can telematics do for your fleet?
There are a number of ways that telematics systems benefit fleets across a wide range of industries, helping them to meet compliance requirements, improve driver safety and streamline processes. The primary industries that use telematics are:
Empower Your Business with Telematics
See how our fleet management software harnesses the power of telematics to create working environments where teams thrive.
Learn More
Telematics & Data Security
Data security is an important consideration when assessing telematics solutions. Telematics devices capture, store and transmit a huge amount of data across a range of different areas including location tracking, driver performance and vehicle condition and it is of the utmost importance that this data remains firmly safe and secure. Telematics providers take data protection seriously and implement a wide range of processes that cover physical security and cloud security. You can lean more about telematics data security here. 
Their is a large range of data points that are captured by telematics systems including the following:
Vehicle location
Geographical point of interest (Geofencing)
Vehicle speed
Vehicle incidents (harsh braking, acceleration and cornering)
Vehicle diagnostics (e.g. EPM, MPG, odometer)
Vehicle status (customisable)
Remote vehicle inspection reports
Panic alerts
Job despatch and messaging
Electrical or sensor activity (via PTO)
Dashboard camera footage
Which vehicles can telematics be used for?
Telematics is a versatile technology, both in the number of functions it can perform and the range of different vehicles and other assets with which it can be used. It is suitable for use with the following vehicles and assets, among others:
Cars: As well as performing important productivity and vehicle maintenance functions for company car and sales fleets, telematics is also used to monitor private mileage and ensure health and safety compliance, an essential part of employers' duty of care.
Cargo vans/pickup trucks: Used for functions including job dispatch and routing, time on site reporting, time sheet reporting, proof of delivery solutions, monitoring unauthorised vehicle use and tracking driver behaviour.
Single axle/tractor units: Here, telematics helps with route optimisation and scheduling, driver hour management, fuel management and driver behaviour reporting.
Buses and coaches: Telematics provides assistance with driver hour management, route optimisation and scheduling, fuel management (including engine idling), integration of services (through, for example, time of arrival notifications) and driver behaviour reporting.
Heavy equipment: In the construction industry, telematics is used for heavy earth-moving equipment. Here it serves to boost jobsite productivity by tracking equipment utilisation, enabling preventative maintenance and reducing fuel burn.
Specialist vehicles: Telematics is also widely used for a range of specialist vehicles, including dump trucks, tow trucks and cement trucks. Among other benefits, the technology provides a better understanding of vehicle activity through power take-off, where mechanical power is transferred to another piece of equipment (such as the cement mixer on a cement truck, for example).
It is this sheer versatility of telematics that has guaranteed it an instrumental (and expanding) role in fleet management for the long term. It is already delivering major improvements to safety, productivity and ultimately profitability, and it is only likely to become more central in the years ahead. Those businesses across the world that integrate telematics systems into their operations can expect to continue to reap significant rewards.