Three months into lockdown, the UK seems to be slowly but surely setting plans in motion for a "return to work" schedule.
And for business who've been operating as best they can behind closed doors, to those who're counting down the days until their "open" signs can be flipped back round, this is a welcomed relief.
It's safe to say that walking down a high street or driving through an industrial estate hasn't felt the same since mid-March. COVID-19 has changed the way the whole country works, so much so that our local businesses are at a loss for how "business as usual" will ever be "usual" again.
But there are so many steps that need to be taken to allow a company to resume normal operations, and lots of those steps don't just involve people.
Let's think about it – say you're a courier company looking to jump start your deliveries in the coming weeks. Your drivers are on-board and ready to get back into their vans, your packages are piled up in order and your fleet management system is powered up ready to plan your journeys.
But what happens when the ignition doesn't start because it's been sat stationary for 3 months?
A warning light flashes up on your dash because the oil level is too low?
Or you realise your paper checklist hasn't been updated to include post COVID-19 sanitisation advice?
It's those little steps that are so easily missed, but can cost a business so much if they are.
That's why we're working with our brand partner FleetCheck, to help provide our customers with a brand new tool designed to help make the return to work as easy and simplified as possible.
In partnership with Driving for Better Business and Mercedes-Benz, we're delighted to introduce: The Back to Work App.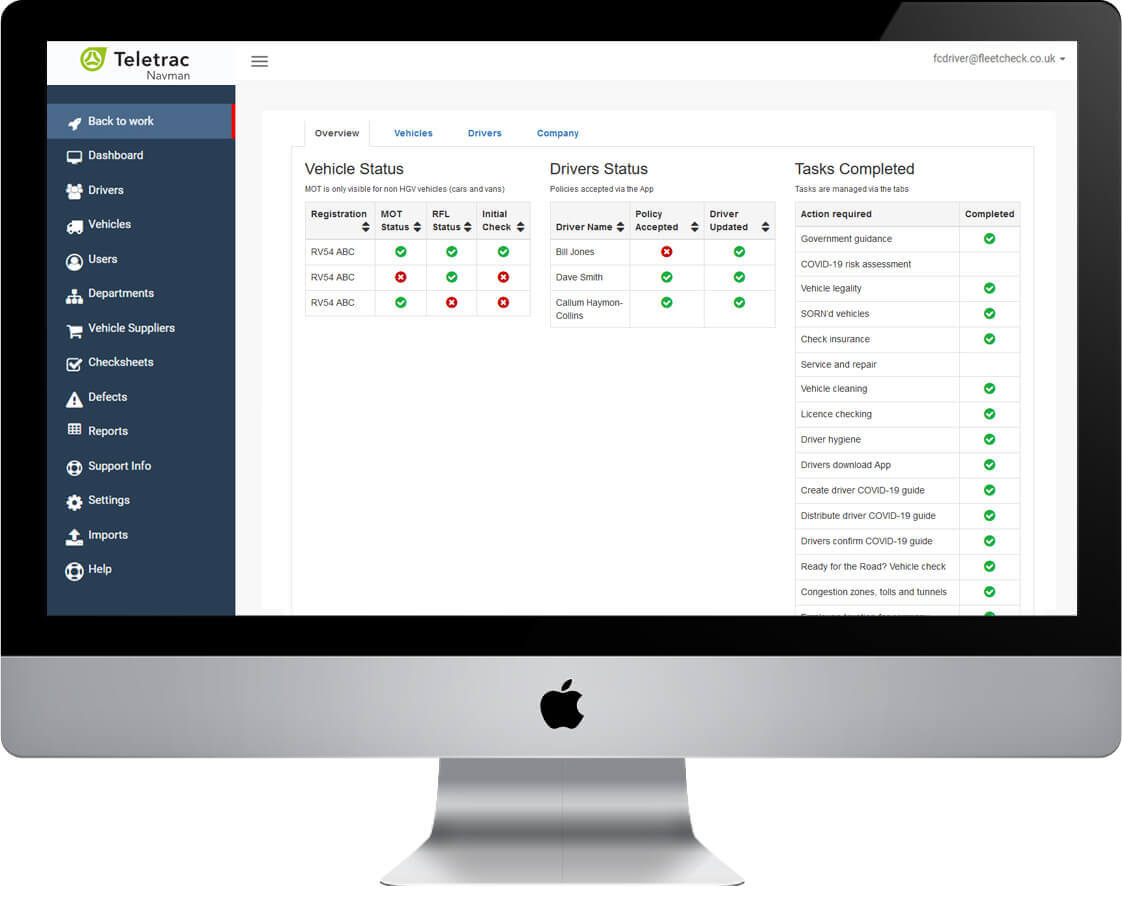 What is it?
Not to be confused with the full-works FleetCheck integration we offer as a partner API with Teletrac Navman, the Back to Work App is a brand new product which is a direct response tool to the coronavirus.
Designed for UK businesses who're looking at getting their fleets back on the road as the lockdown eases, the Back to Work App allows you to automatically pull all the essential data you need for managing your businesses' return to work process into one easy to use place, saving you time and the need for multiple products.
Pulling in MOT and Road Tax status directly from the DVLA, as well as guides and support produced by Driving for Better Business, the Back to Work App offers an accurate and robust way to safely get all drivers and vehicles ready for the road again.
But what makes it stand out? The Back to Work App goes one step further into really supporting UK businesses return to business as usual post-lockdown, because it also takes into consideration the latest government guidance relating to vehicles during COVID-19, including advice on how drivers can safely and effectively sanitise their vehicles before use.
The App has been designed specifically as a response to the COVID-19 crisis, offering businesses support to transition back to a new normality and providing a long-term solution to ensure business continuity.
As a Fleet Management Software provider, and a long-standing FleetCheck partner, we have a duty of care to share reliable, accurate information with our customers. The Back to Work App allows us to do this during a time when so many UK businesses need it most.
What's included?
Vehicles:
As fleet businesses already know, vehicles that haven't been used for many weeks can't simply be put straight back on the road – they'll need a thorough inspection before the vehicle is fit for use again.
The Back to Work App includes a detailed 20-point checklist to help the driver ensure the vehicle is completely roadworthy, supported by additional features such as push messaging to reinforce safety messages or warnings, and the option to submit photographic evidence of vehicle defects or damage. Failure to check this could potentially see an increase in breakdowns, not to mention other incidents caused by mechanical failures.
Drivers:
Whilst the Back to Work App has been designed to help your business jump start operations in a post-pandemic world, its primary function is to help protect your most valuable assets – your drivers.
It's so important to recognise that they'll be coming back to a completely different environment than they knew before. They'll need time to readjust to changes such as higher traffic levels and queuing times, but will also face new challenges such as an increase of commuters taking to the roads to avoid public transport.
Taking these changes into consideration, a vital tool in the Back to Work App is the driver declaration form which can be used to confirm their awareness to managers, as well as their fitness to drive  (including their confirmation of having no COVID-19 symptoms) and their acceptance of new policies such as the vehicle sanitisation process.
Managers:
Once the checks have been completed via the App, this data is then sent to a Management Portal where the employer can view any vehicle maintenance data or repairs that are needed, and communicate any changes in policy such as handwashing and vehicle cleanliness.
This Portal allows managers to eliminate the need for paper checklists, and the headache of chasing and filing those papers too. Having all data held securely in the Cloud and being able to have complete visibility of vehicle and drivers' health means that not only is this a much more accurate, efficient process for completing daily checks, but there will also be a robust audit trail of activity also, should it be needed.
How much is it?
Until the end of 2020, the Back to Work App is 100% free of charge*. And it's so simple to sign up.
All you need to do is let our team know you'd like to register, and we'll give you a ring to set you up on our portal. Easy! 
How do I find out more about FleetCheck?
We've been partnered with FleetCheck since for over 4 years, and we're proud to say that together we have over 100 linked accounts, with more than 5,000 vehicles managed.
If you're thinking of signing up for the Back to Work App free of charge for the remainder of 2020, welcome aboard and we hope it's a helpful tool to get your business back and up and running.
Then, if by the end of December you can't imagine operating without it, you have a few options.
You can choose to keep the Back to Work App exactly as you have done, but at a chargeable price from 1st January 2021
Or
You can upgrade to our complete Fleet Check partner integration, including additional features than just the Back to Work App such as:
Proactive MOT and RFL alerts with reminders
Over 600 inbuilt reports with multiple format and scheduling options
Record fuel purchases and vehicle mileage
HGV operator's licence compliance
And so much more
Moving up to the full solution from the Back to Work App is easy, simply reach out to your Teletrac Navman Account Manager to book in a live demo, or drop us a message to find out more.
*FleetCheck Back to Work App free of charge until 31/12/2020 with no commitment.