Key Takeaways
Dashboard cameras are also known as dashcams and most of these cameras face forward, pointing out from behind the windshield so that the video image corresponds to the driver's view. Other dashboard cameras face rearward, aimed at the inside of the vehicle and record driver activity. Fleet dashcams often link to fleet management software and provide businesses with real time access to recordings for driver behaviour incidents including dangerous and distracted driving. The more advanced dashboard cameras utilize computer vision and AI that interprets video recordings providing deeper insight into driver behaviours including mobile phone use, eating and fatigue whilst driving.
---
​
What

 

I

s 

a

 

D

ashboard 

C

amera?

A dashboard camera is a camera that continuously records either forward-facing, driver-facing or 360-degree views of a vehicle.  The videos are stored in the cloud and when linked to fleet management software users can view the video recordings when driver safety events occur, including speeding, heavy braking, aggressive acceleration and harsh cornering. The more advanced dashboard cameras have AI capabilities that use computer vision to interpret the videos and provide insights into distracted driving and unsafe driving practices. Most businesses use video footage to build a safety program that rewards positive behaviours such as collision avoidance. The driver behaviors that AI cameras can detect include:
Speeding against posted speed signs
Dangerous maneuvers including U-turn and Stop sign violations
Distracted driving including mobile phone use and eating
Drowsy driving
Tailgating
How
D

oes
an
AI
D

ashboard
C

amera
W

ork
?
Once the engine is turned on the dashcam system will begin recording until the engine is turned off. The AI processor uses computer vision to analyse the recordings and identify dangerous and positive driver behaviors that are based on the analysis of over 3 billion minutes of driving footage. When an event is identified the recording is stored in the cloud and recorded against the drivers record for review in driver coaching sessions. Many cameras including the Teletrac Navman Smart Dashcam also provide real-time in cab coaching.
When integrated with fleet management applications users can view video footage alongside driver performance data, providing an extra dimension to driver behaviour analysis and a single location to access fleet performance insight.
How
H

as
AI
M

oved
D

ashboard
C

ameras
F

orward
?
The edge computing technology within AI cameras provides fleet managers with more driver behaviour information than ever before. AI has turned dashboard cameras into proactive coaching tools that identify dangerous driving behaviors and create business insight that can help build a culture of safety. Real-time driver feedback is also enhanced by AI, giving drivers instant warnings when they take dangerous actions such as reading a text message or driving without a seatbelt.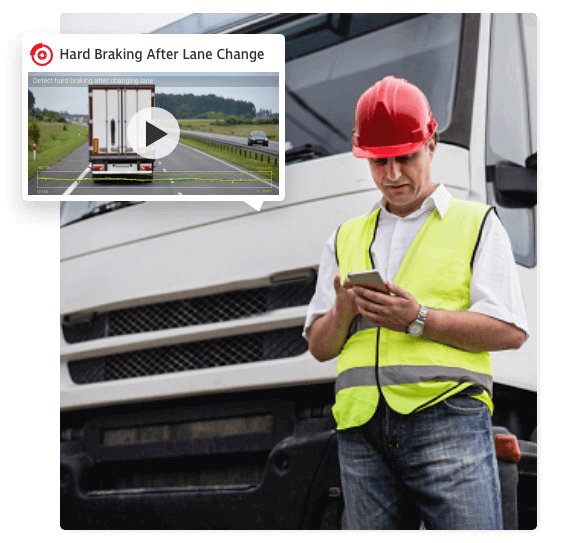 How
D

o
B

usinesses
B

enefit
F

rom
I

ntegrated
AI
C

ameras
?
Reduce Incidents - AI-powered fleet cameras identify dangerous driving behaviours, such as drowsy driving or speeding. This data can be used to coach drivers based on their actual driving habits. Fleets can expect fewer accidents through insight driven driver training and real-time driver feedback.
Lower Insurance Premiums – Fleets can reduce the number of accidents due to better-trained drivers. Fewer accidents can improve the business claims history and increase the chances of reducing insurance premiums.
Driver Retention – Making driver safety a priority is a key component in keeping employees happy and improving driver retention. Creating a training program that rewards positive driving behaviors can an effective way to get drivers to buy into technology-led safety programs.
Reduced Fuel Cost and Environmental Impact - Safer driving is also more fuel-efficient driving, and using driver behaviour insights to reward positive behavior can have an impact on fuel spend and reduce the business's environmental impact.
Repair and Maintenance –Reduce a vehicle's total cost of ownership through lower repair fees and maintenance costs. This is driven by lower accident rates and less frequent maintenance due to better driving styles.
Incident Protection – Fleet or safety managers now can easily prove the fault of an accident. Actual footage of the incident can protect fleets against false insurance claims.