Running a fleet of vehicles is an expensive business, and margins are often tight. Keeping overheads reined in can be tough – but technology is making a big difference. The use of GPS telematics and associated technologies can help to keep fleets' premiums under control, by helping to manage risk, improve safety, strengthen security and also providing protection from some claims in the event of road accidents.
Since the turn of the millennium, telematics systems have been enthusiastically embraced by the fleet sector, helping to boost productivity and enhance efficiency by providing fleet managers with an unprecedented level of insight into how their fleets operate as well as greatly simplifying maintenance processes (thereby reducing the risk of unscheduled downtime). Another major cost facing fleets is insurance. Last year's changes to the Ogden rate, used for personal injury payouts, forced fleet insurance premiums higher. This makes it all the more important to take active steps to keep fleet insurance costs down.
How important is risk to fleet insurance premiums, and how can telematics help?
Fleet insurance premiums, as with insurance premiums generally, are largely based on perceived risk – so vehicle operators with generally good claim histories are more likely to save on their insurance, and vice versa. Insurers will look for proof that fleet operators have taken active steps to minimise risk and enhance road safety. It is therefore incumbent upon vehicle operators to demonstrate that they've put stringent measures in place with relation to road safety and vehicle maintenance.
Telematics systems offer a range of features that can curb risk, including driver scorecards. These provide managers with a wealth of data on how their drivers conduct themselves on the road, highlighting risky behaviours such as speeding, harsh braking, tailgating and wild cornering. As well enabling them to develop training and development schemes tailored to address the shortcomings of individual drivers, this also allows managers to reward (and incentivise) good behaviour. Insurers are likely to look favourably on all this.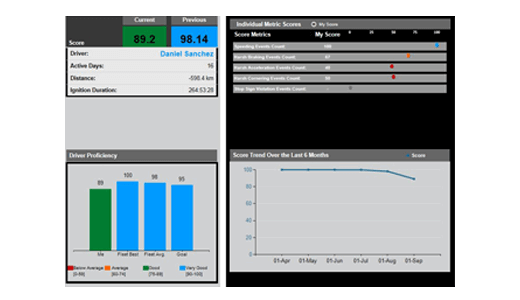 Example of Teletrac Navman Driver Scorecard
Can fleet tracking enhance safety?
Human error (much of which is brought on by fatigue and lapses in concentration) is the leading cause of the majority of road traffic accidents . Fleet tracking systems provides managers and drivers alike with detailed insights into driving standards. As we've already noted, these insights allow fleet managers to address specific and consistent shortcomings – we all make mistakes, but telematics ensures that continuing patterns of behaviour in this regard can be detected and dealt with through better training.
Fleet managers can also track vehicles in real time when they're out on the job, with ongoing communication between vehicles and the office, wide range of performance reporting. Again, you should expect insurers to look favourably at measures of this kind when setting fleet insurance premiums.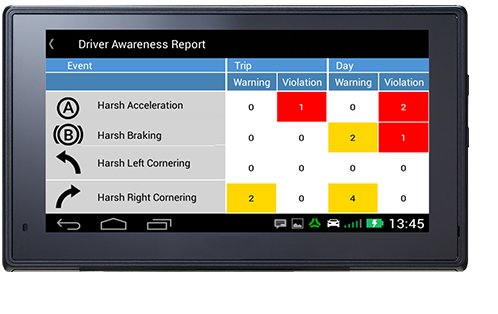 Example of In-Vehicle Driver Feedback
What can telematics do to strengthen security?
Of course, there's more to risk than just road safety. Insurers will also look very closely at what measures vehicle operators take to ensure security and guard against theft. Insurers are highly likely to reward fleet operators that take strong action to minimise the risk of having their vehicles either stolen. Vehicle tracking is one such measure, and it could have a significant impact on fleet insurance premiums. Vehicles that are equipped with tracking technology are significantly more likely to be recovered, and insurers will consider this when setting fleet premiums.
Can telematics safeguard fleets against road accident claims?
It is essential that vehicle operators protect themselves against fault claims when road accidents occur. They must be able to document what happens when their vehicles are in use so that, where it is the case, they can prove that their drivers are not at fault for individual incidents. Many fleet operators have equipped their vehicles with dashboard cameras, which monitor and record driver conduct, traffic conditions and potentially any accidents that might occur. It should be noted here that the presence of dashboard cameras should also act as a deterrent for drivers who might otherwise engage in risky behaviour while driving.
With video evidence to hand, vehicle operators should be able to determine quickly and objectively which party was at fault in a road accident, should any such dispute arise. This should reduce the likelihood of being dragged into protracted and potentially damaging legal action, and could save vehicle operators a great deal of money in settlements. It will also reassure insurers that adequate measures are being taken to curb another source of risk.