Vehicle Tracking Software: Ten Must-Have Features in 2021 
Vehicle tracking software has been evolving to a point where real-time data is not only available centrally but easily accessible to a mobile team of drivers and fleet professionals.
On-board tracking, video, and sensors are now being combined with AI processors that interpret as well as record the road ahead. Vehicle tracking software provides a wealth of data from multiple touchpoints, including:
Tracking devices
Advanced sensors
On-board diagnostics systems
And more
These data points provide a huge competitive advantage to businesses that are able to efficiently collect, analyse, and act on the issues at hand.
Drivers have access to predictive technology that identifies road signage, driver behaviour and road condition to help guide them to the safest path through traffic, as well as the most efficient overall route.
But without the right technology, your business will be left behind.
Here are the must-have vehicle tracking software features for 2021:
Real-time Vehicle Tracking
Instead of dots on a map, vehicles are identified as part of a "drone view" that shows the highways and neighborhoods they are traveling through. Drone view provides real-time position information so you can see the vehicle moving alongside trip and vehicle health details without lag. The transmitted data also includes additional information on vehicle parameters such as speed, driver fatigue, and fuel use.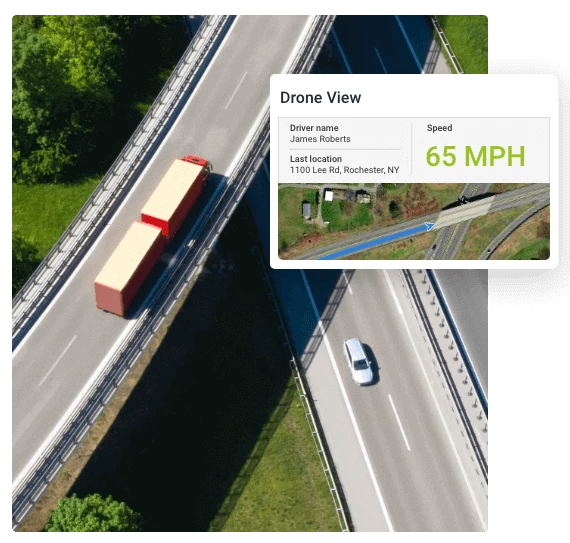 Simplified Analytics
Vehicle tracking devices generate a wealth of data and having a simple and intuitive analytics engine is a must. To stay competitive businesses need to turn their data into decisions and have access to the right information at the right time.
Analytics engines should do more than provide canned reports on fleet performance, they should provide insights and instantly answer the biggest questions that you have about your fleet operation. It is this real-time analytics that enables businesses to empower their teams and to act fast when issues arise.
This move from reactive "canned" reports to proactive real-time analytics will build a competitive advantage for early adopters.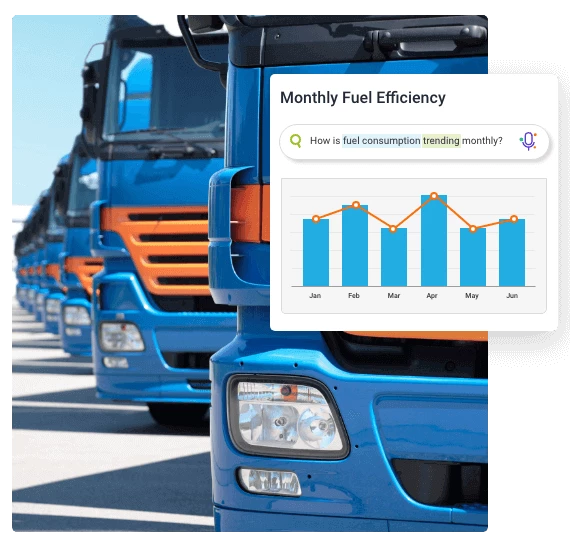 AI Insights
Another way AI is changing the fleet management industry is through reporting and insights. AI analytics helps fleet managers understand the biggest influencing factors on outcomes and identify critical points of impact. Three ways that AI is transforming analytics are:
Learning the business: AI monitors every aspect of your fleet operation and learns how your business runs so it can identify opportunities for improvement.
Spotting patterns and anomalies: The AI engine takes fleet data and develops patterns, which helps it immediately spot anomalies and highlight possible issues.
Automatically alerting management: Management is alerted in real-time so important business decisions can be made before minor issues became major problems.
AI is being introduced to vehicle tracking software to simplify data analysis so any application you deploy should be turnkey with limited need for configuration and setup.
Teletrac Navman is on the brink of a dramatic change. With a focus on artificial intelligence and insights, we are breaking free from the challenges of the past to allow businesses to fully take advantage of their entire telematics system.
Watch this detailed video explaining how the future of telematics is evolving right before our eyes. 
Connect to Everything
Standalone fleet management software that limits data exchange with other applications has many lost opportunities. By 2021, integrating with other enterprise systems from ERP to integration platforms such as Zapier is essential.
Zapier follows standard IFTTT (if this then that) protocols to simply and seamlessly connect multiple systems and analyse more data at once. For example, use Zapier with QuickBooks to instantly create invoices when goods or services are provided or create automated text messages for customers based on your vehicle's location and estimated time of arrival. All without custom development or programming.
Wherever operations and management are siloed and separated by their systems, adding the ability to flow data from one environment to the other can improve communication, improve projections, and enhance operational decisions with management support.
Fully Featured Mobile App
Fleet managers can now easily access the same information on their mobile device that they are used to only seeing in the office. Separate app features for drivers and fleet management keep routines simple and quick, and team members can use their devices to remain in compliance.
Managers of large fleets can be ready to handle anything from the office or in the field with their mobile device, and smaller operators can keep track of their fleet while they are busy running the rest of their business.
A Wide Range of Connected Apps
Mobile apps that connect drivers with the back office are now a critical part of vehicle tracking software platforms. In particular, software apps that digitise processes are becoming increasingly important. Job dispatch and management, document sharing and checklist builders are all now available helping to eliminate paperwork and streamline processes for mobile workers. Not only do these apps help mobile workers but they also eliminate delays with information sharing that are inherent with paper-based processes. The goal in 2021 should be zero paperwork in the cab and everything digital.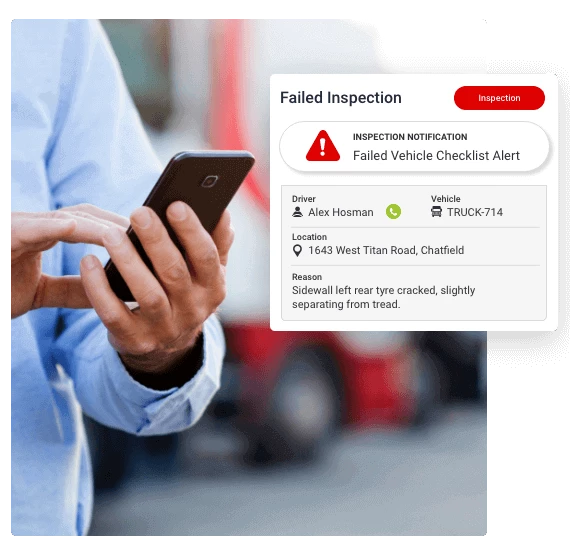 Track Much More than Vehicles
It's a simple step to extend your vehicle tracking software to manage of other assets such as construction equipment, trailers, and non-powered assets in a single application. New battery powered sensors and QR code scanning tools enable you to manage your entire asset inventory from your vehicle tracking software platform. In addition, mobile apps can be used to keep track of personnel as they move from vehicles and across job sites.