Key Takeaway
Inflation, increased regulation, and other external factors can all cut into your profit margins, making it more important than ever to stay ahead of your competition. One way to create a competitive advantage is to invest in fleet tracking software. With real-time insights into your operations, you can increase efficiency, decrease costs, and ensure your position as an industry leader. Here's how GPS fleet tracking benefits your organization and offers you a competitive advantage over rival businesses.
Table of Contents
---
1. Increase Your Operational Efficiency
One of the obvious benefits of fleet tracking is knowing where all your assets such as vehicles, and equipment are in real time. With this information readily available, you can optimise routes, reduce idle time, and improve fuel efficiency across your entire fleet.
The use of digital tools for recording, sharing, and utilizing important information can significantly improve internal processes. By doing so, organisations can gain accurate insights into their operations, leading to better business decisions. These tools can also improve decision-making speed by allowing instant access to critical data.
2. Provide Better Customer Service
Fleet tracking software can help businesses provide better customer service. By using tracking software, businesses can more easily communicate with customers to provide accurate arrival times. Additionally, tracking software enables operators to identify the nearest available vehicle to an urgent job reducing response times and exceeding service level agreements. 
Tracking software can also help businesses provide increased transparency for customer billing. GPS software can provide evidence of service delivery to ensure all services are accounted for, completed and accurately invoiced. This level of detail, transparency, and responsiveness can improve customer satisfaction and trust.
3. Reduce Your Operating Expenses
GPS fleet tracking benefits can often be easily seen on your balance sheet. Optimising routes and reducing fuel consumption can lead to significant cost savings, and many businesses see improvements in operational efficiency that result in reduced overtime and labor costs. These savings can be reinvested into capital expenditure projects like fleet upgrades or ongoing maintenance. In our recent TS23 Telematics Survey rising fuel costs were cited as the most significant business challenge with 93% of telematics users stating that they had reduced fuel cost by up to 40%.
Fleet tracking software can also save money in another important, but less obvious way: theft reduction. By knowing where your company assets are in real time, you can minimise the risk of theft and unauthorised use that can result in legal fees, recovery costs, and disrupted business operations.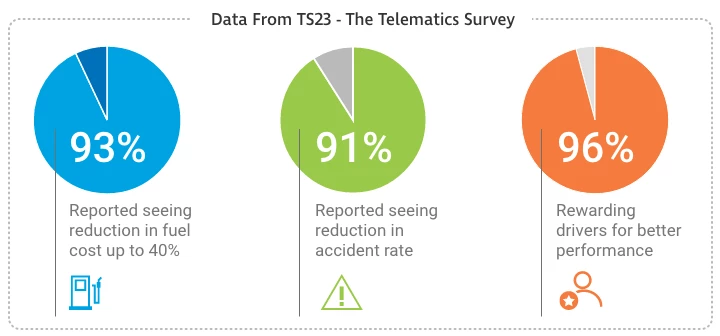 4. Improve Safety and Compliance
Fleet tracking software can help keep your drivers and vehicles safe and compliant with regulatory requirements. Driver monitoring and driver scorecards can ensure drivers are operating vehicles safely, reducing the risk of accidents, injuries, and property damage. Comprehensive fleet tracking software like TN360 can allow you to identify areas for improvement in driver behaviour and implement training as needed. Similarly, the use of league tables and driver performance bonuses can also serve as strong incentives when attracting and retaining drivers in a competitive labour market. In our recent TS23 Telematics Survey we found that 91% of telematics users had seen a reduction in accident rates since implementing their solution, with 96% rewarding drivers for better performance.
In addition to safety benefits, fleet management software can make compliance easier for your team. Streamlined processes can help develop a strong company reputation by limiting violations, while TN360 pre-trip checklists can be performed easily and efficiently to help ensure operators are using safe equipment each time they get behind the wheel.
5. Decrease Vehicle Downtime
Inoperable vehicles not only cost you money — they can't make you any money either. When it comes to fleet operations, there's always more work to be done, and if your company can't meet demand, one of your competitors will. Keeping your fleet in proper working order can help you meet customers' service and delivery needs.
By optimising your vehicle maintenance schedule, you can ensure even small fixes aren't ignored. Digital maintenance planning software can help you set maintenance schedules based on manufacturer-suggested intervals or with custom metrics based on your needs. Additionally, real-time engine diagnostic reports can keep small problems from turning into larger ones that take your vehicles out of service.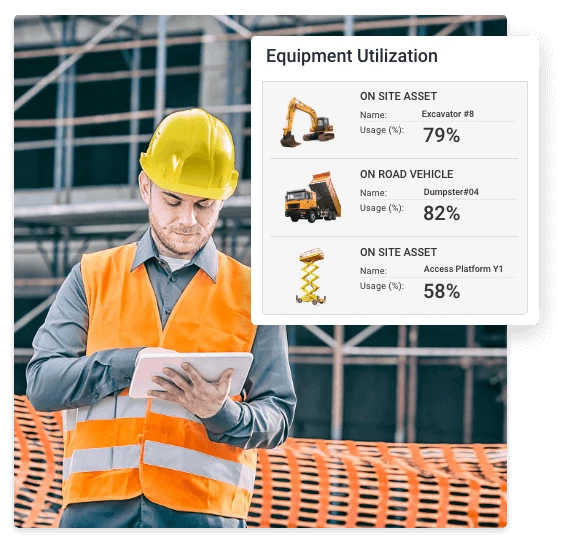 Invest in Premium Fleet Tracking Software
When it comes to creating a competitive advantage over similar businesses, the benefits of fleet tracking software are clear to both operators and customers. With real-time data at your fingertips, you can create actionable plans that can help you gain deeper insights in your operations, optimize your fleet, and win new customers with unmatched service potential.
Though GPS fleet tracking benefits may be clear, trying to determine the must-have features your software needs can be challenging. That's why we're here to help. Teletrac Navman offers a customisable, AI-enhanced solution in the form of TN360, our premier GPS fleet tracking software.
To learn more about how fleet tracking software can give your business an edge over competitors, contact us today, and a member of our team will work with you to create a system tailored to your business needs. You can also use our Build Your Solution tool to outline your own custom solution — it only takes 30 seconds.