1. 100% track record of meeting all contractual SLAs due to increased to-the-minute visibility of its fleet
2. A reduction in maintenance events by an estimated 25% thanks to better planning, leading to improved vehicle uptime as a result
3. An estimated 10% reduction in fuel consumption due to better route planning and job assignment based on fleet visibility
Graham Environmental Services (GES) is Scotland's preferred and biggest independent pest control firm, with vast experience in managing pest problems in residential, commercial and industrial environments. The family-run, award-winning business covers the entirety of Scotland, with 53 vehicles currently in its fleet
This improved visibility has not only helped us save on the bottom line and reinvest into our growing fleet, but it has also enabled us to continue bringing new contracts in as our reputation for excellent customer service has continued
Fleet Compliance
THE CHALLENGE
The business' growing reputation for high standards of professionalism and success, naturally led to an increase in contracts across Scotland. As a result, GES's fleet size grew rapidly in order to service its growing list of clients, but this also meant its colleagues were dispersed across the country and so drivers and vehicles wouldn't be physically seen from one month to the next. As a result, ensuring vehicles remained compliant and in good condition became increasingly important in order to maintain high levels of customer service.
"Some of the contracts we were winning included NHS sites, which require fast response times for obvious public health reasons – under four hours is the norm for a contract of this type," said Tom McLevy, Compliance Officer at GES. "Therefore, we needed to have increased visibility of our fleet to ensure we could meet our contracted SLAs, and support our customers in continuing to effectively deliver their own operations. Pests have the ability to bring down a business or public service rapidly, so we take our responsibilities very seriously."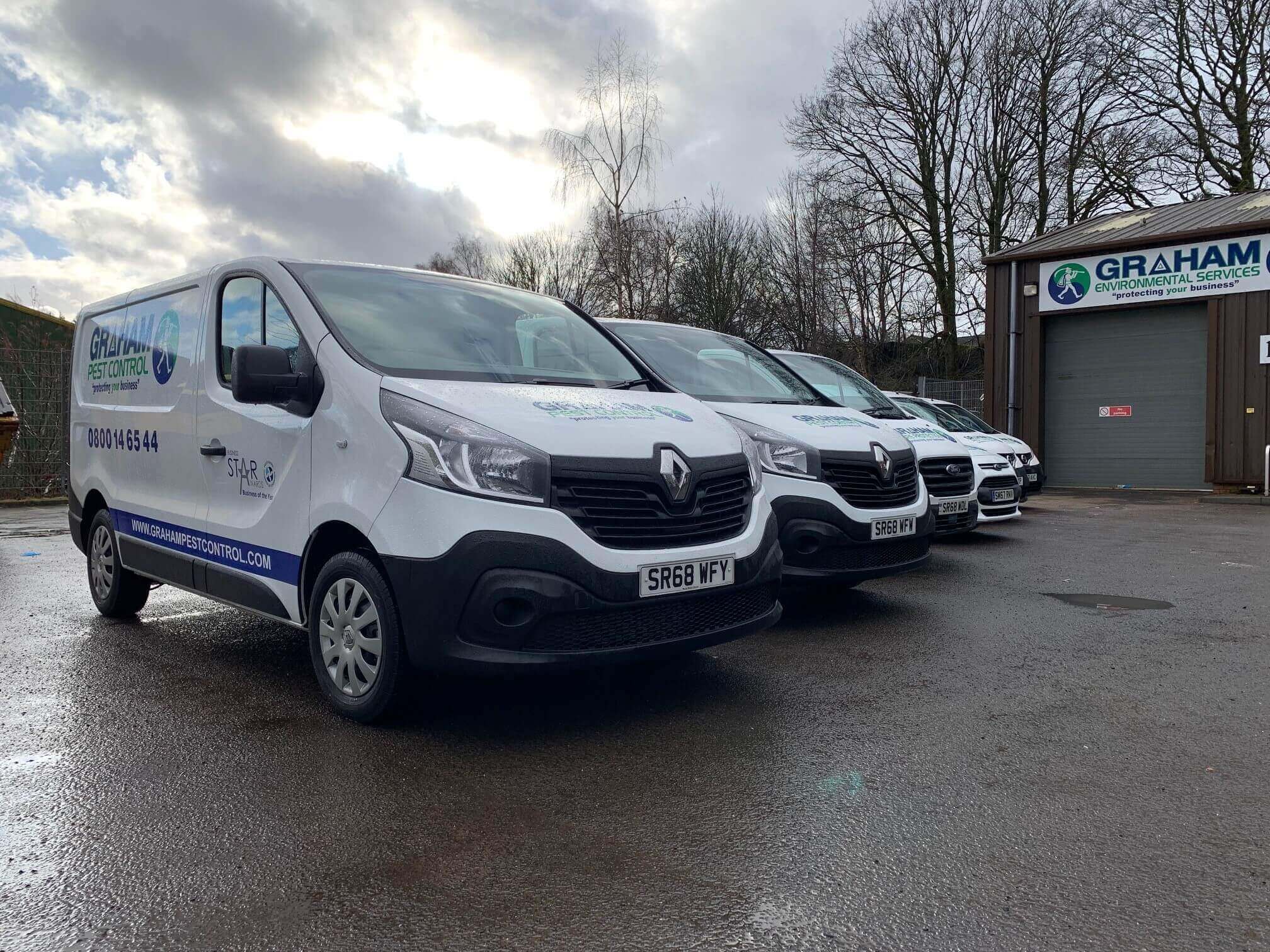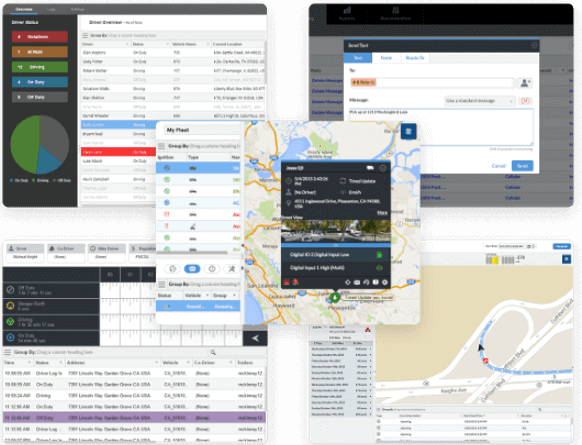 ---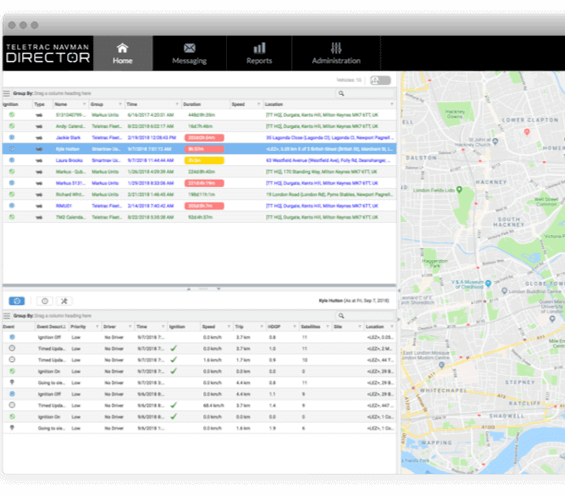 Fleet Visibility
THE SOLUTION
As a business that ensures its customers reach and exceed their goals through use of its technology and unrivalled customer support, Teletrac Navman provided a fully integrated solution that revolved around its award-winning DIRECTOR platform.
DIRECTOR is an advanced fleet tracking system that enables fleet managers to have access to real time data in one easy-to-use interface. It provides fleet managers with a diverse range of information, from the location of individual vehicles (tracked in real time) to monitoring fuel usage and driver performance. It can also help to significantly cut fuel costs through more effective route planning, optimise vehicle use, increase business productivity, improve driver behaviour (which equates to fewer incidents), and potentially reduce insurance premiums.
Additional to DIRECTOR, Teletrac Navman's solution also included the latest telematics hardware fitted to all vehicles, plus additional training in the form of online modules and ongoing technical support.
Driver Behavior and Training
THE SOLUTION
The key benefits for GES since deploying DIRECTOR include:
100% track record of meeting all contractual SLAs due to increased to-the-minute visibility of its fleet
A reduction in maintenance events by an estimated 25% thanks to better planning, leading to improved vehicle uptime as a result
An estimated 10% reduction in fuel consumption due to better route planning and job assignment based on fleet visibility
According to Tom, GES's fleet has been constantly improving since DIRECTOR was installed: "More than anything, DIRECTOR has empowered us to make smarter, quicker, better informed decisions based on real time data rather than a hunch. We know exactly where our drivers are, and who's best placed to service each inbound enquiry we receive.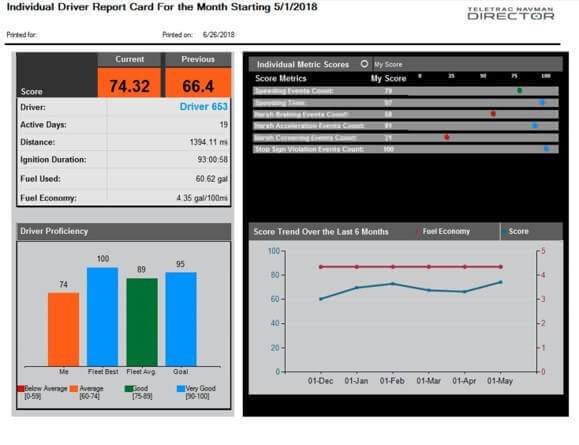 This improved visibility has not only helped us save on the bottom line and reinvest into our growing fleet, but it has also enabled us to continue bringing new contracts in as our reputation for excellent customer service has continued.

Having access to online training accompanied by personal guidance on how to make the most of these services has really helped us extract as much value from DIRECTOR as is necessary for us. The added value of it being online means we have been able to fit it within our ever changing workloads, and open it up to more members of staff to get tooled up.

Equally, with the amount of business we have it's important every vehicle is compliant and on the road, so having more effective tools to schedule and cover for periods of maintenance ensures we're not turning business away, or letting customers down on response times.

But it's not just about the vehicles or the bottom line; we've been able to care for our colleagues on the road more through a number of ways. Our technicians tend to work alone and can sometimes visit some hazardous locations, and encounter hazardous pests such as wasps, so DIRECTOR alerts us if a vehicle has been stationary for more than hour and we can take the necessary measures to check in with them and ensure they're safe.

We can also analyse their driving performance to improve their safety; we can see all instances of speeding, harsh braking and cornering, and retrain where necessary to ensure we're sending them out around the country as equipped as possible for the road conditions – at the end of the day they've all got families to go home to