Anyone whose job involves regular long-distance driving is likely to have spent more than their fair share of time in motorway service stations. But these institutions aren't universally loved – whether it's the prices, the quality of the food or even the architecture, motorway services always seem to be on the receiving end of some pretty fierce criticism.
With this in mind, we put the question to our followers on Facebook who drive for a living – just what is it you want to see from motorway service stations? As you might expect, a lively discussion ensued and we received some very interesting responses.
In total, 556 people voted in the poll. Of these, a smidgen under half – 276, or 49.64 per cent – said they wanted healthier eating options at motorway services. Just under a quarter, or 23.74 per cent, stated that they'd like to see better sleeping conditions made available to them.
There were two other options on the poll – gym facilities and electric charge points – but nobody voted for them, giving us some idea of the strength of opinion when it came to the first two. Indeed, these comments summed things up succinctly:

Others felt like they weren't being given enough time to relax and unwind properly:

Another bugbear which came up again and again in the debate following the poll was – perhaps unsurprisingly – cost. A survey from car insurance firm Admiral recently found that consumers were paying three times as much for snacks at some service stations than they would pay at supermarkets. Lots of people who joined the discussion were unhappy at how much they had to pay for basic commodities from motorway services.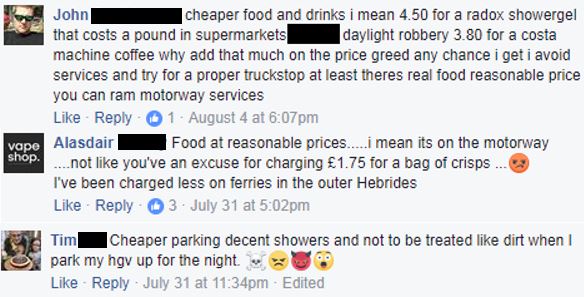 The cost of fuel also cropped up as a major concern:

Another point mentioned was the relative lack of facilities for women at motorway service stations. Of course, given that long-distance truckers are both predominantly male and among the most frequent users of motorway services, it's easy to see how the women who use them might have been somewhat overlooked by comparison.

What really came through from the discussion, though, was a sense that many people who regularly use motorway service stations just don't feel they're getting value for money across the board. A lot of visitors, it seems, are fed up at having to pay over the odds for what they consider to be substandard facilities.

It's worth noting, as well, that these complaints – among others – have been doing the rounds for years. In 2014, a poll conducted by the RAC found that 88 per cent of respondents felt motorway services offered poor value for money. Part of the problem is that motorway service stations have a near-monopoly – there aren't that many of them and they're miles apart, so drivers are left with little real choice.
Still, motorway service operators would do well to take this sort of criticism on board, because there is clearly considerable strength of feeling among their customers about the quality, the choice and the cost of what's on offer.