Fleet managers tend to have a lot on their mind, but there are no concerns that rank higher than road safety. Drivers are faced with many potential distractions when they're out on the road - with the rise of smartphones and social media in particular posing challenges with regard to concentration and safety. However, telematics has helped to drive a quiet revolution in fleet road safety in recent years.
Since the turn of the millennium, telematics has been adopted by firms across a wide range of different sectors. Fleet managers and businesses are looking to fleet telematics systems to help them do much more than track the location of vehicles – they are now turning to the technology to help them evaluate driver performance and support their road safety strategies.
One of the biggest advances to support this has been the introduction of 'in-cab telematics' which provides businesses with a full picture of driver conduct whilst supporting drivers in their mission to improve performance.
Telematics and driver conduct – in cab feedback
Telematics has provided fleet managers with unprecedented amounts of data relating to driver performance, so that undesirable conduct - including heavy braking, harsh cornering and aggressive acceleration - can be detected and dealt with. These factors are all monitored by in-cab telematics systems, which send data directly back to fleet managers for them to evaluate.
It is this data that enables fleet managers to understand individual driver needs and work closely with driver trainers to develop bespoke training, rather than putting drivers through generic, one-size-fits-all programmes.
It is also becoming increasingly popular for businesses to include real time driver feedback mechanisms, so drivers can understand what actions are triggering poor behaviour. Small head up displays, as included with Teletrac Navman's Smart Telematics, enable drivers to continually learn and are great way for businesses to take de-briefs and training on to the road.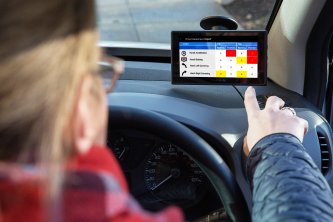 Get the full picture - In-cab video
GPS fleet tracking systems have been widely accepted and adopted by fleet operators, as a mechanism to optimise fleet operations. More emphasis is now being placed on how the technology can further support road safety by understanding and managing driver conduct. One a biggest advances in this area is the development of integrated dash-cam technology.
Bringing together telematics and video footage gives fleet managers the complete picture of driver activity, with front-facing and driver-facing cameras recording throughout journeys. This visibility links actions with poor performance and can be a very powerful training tool to use in de-briefs. We also recently wrote about how telematics and integrated cameras could help fleet managers prevent the use mobile phone behind the wheel, knowing how committed a business is to improving driver safety can have profound impact on behaviour.
Stress the benefits to drivers
Fleet managers and drivers alike are already reaping the rewards of telematics systems. Nevertheless, fleet operators looking to introduce technologies such as in-cab cameras should take the time to win their workforce over to the idea. The businesses seeing the most value from telematics have implemented the technology collaboratively and have a commitment from fleet managers and drivers to improve road safety.