With technology evolving all the time, it's important we pay close attention to where we are right now as well as where we're heading. In terms of fleet telematics, 2016 has been a year for breaking new ground with a variety of new products available to assist both managers and drivers alike and it's an exciting industry for us to be around right now.
The advancements have meant that we all have to adapt to new technologies together, from the telematics providers like ourselves to the drivers and fleet managers using them on a daily basis. The demands for more evolved and integrated systems are greater than ever before, but thankfully this is provoking those in the industry to innovate more frequently, moving with the times, in order to produce the kind of products that can positively impact upon business performance.
Looking ahead to 2017 there are yet more advancements on the horizon and, like most things digital, mobile is at the heart of it. Fleet managers are in need of solutions to make life easier for all concerned – drivers, customers, investors and – of course – themselves; meaning that it's important for us all to work together with the aim of improving industries such as transport and construction through high-quality telematics systems.
So just where are we going, what does 2017 have in-store in terms of fleet telematics and what challenges are we faced by?
Drivers and data
As providers of telematics, our focus is on providing drivers with the most accurate data, available in a user-friendly format, to make their jobs simpler. Similarly, it's important for us to be providing fleet managers with the all-important information for them to allocate resources where they are needed, benefitting the business as a whole.
Mobile Enterprise Management – often abbreviated to MEM – has become invaluable in recent times, and is only going to become more important in the year ahead. The technology is providing drivers with the kind of information that was previously only available to fleet managers back in the office; ensuring that they have the details they need at their fingertips.
A prime example of this is Teletrac Navman's own fleet management app, Drive, which enables drivers to perform a range of tasks quickly and easily in order to improve their workflow and efficiency.
Through the Drive app, drivers can receive new instructions and tasks wherever they are enabling them to do numerous jobs without having to make trips back and forth from the depot. Fleet managers can allocate a specific job to a driver, complete with the GPS routing to ensure that they arrive at their destination via the most efficient route in terms of time, fuel and directions.
Drivers can also send their own messages back to the depot from the Drive app. Having reached their destination and either collected their next load or delivered it to the location, customers can sign-off the job and the driver can provide a proof of delivery (POD) for their fleet managers, enabling them to move onto their next job or to return to the depot, while the manager can draw up an invoice for the customer and decide on where the driver is going next.
There are also a number of important administrative tasks that can be streamlined using the Drive app, including key vehicle safety checks, driver identification and real-time driver behaviour feedback.
The clear and accurate delivery of data to drivers out on the road is going to be a huge part of telematics in 2017. All businesses are looking for ways to improve workflow and to make life simpler for employees and telematics providers are right at the heart of this. By delivering useful data in a clear, concise manner that drivers can act upon there and then can help them to increase productivity, simplify administrative processes and improve their driving style.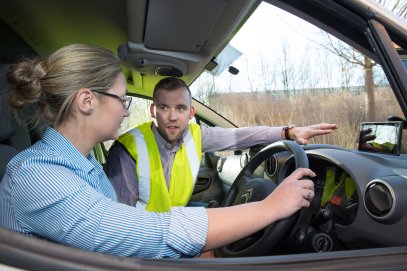 Data security and protection
Legislators are working on new, more effective methods to ensure that personal data is stored securely, and only available to those who need to see and use it, with one example being the General Data Protection Regulation (GDPR), which is due to come into force in May 2018 – something fleet operators will need to be prepared for well in advance to avoid any potentially costly sanctions.
The GDPR was adopted by the European Parliament in May 2016 and represents an iconic strengthening of the data protection regulations. One of the key changes is the need for greater levels of consent for the gathering of personal data, these changes will affect any business trading in the European market – including those based in the UK after Brexit.
Teletrac Navman have always advocated that businesses see a greater benefit from telematics when all employees know that the technology is installed, why it is installed and the ways that the business will use the information gathered. This transparency creates buy-in across the business and allows for free and open communication.
In 2017 businesses adopting the technology should spend more time identifying what their objectives are for installing the technology and look at expanding the technologies use to provide greater value to drivers. This is a need that telematics providers need to respond to by increasing front line features and workflow solutions that make the lives of field based employees easier.
Data security also is becoming increasingly important, especially with so many businesses utilising the latest technologies and sharing files digitally. Telematics providers, for instance, should be Cyber Essentials certified and should be working with hosting providers who themselves hold the correct certifications. Managing the data which is gathered within the business will also become a greater priority for Fleet Managers, and making sure that they are choosing a telematics system that allows them to set user profiles with access levels that align with their responsibilities should be a priority.
Evolution of connected vehicles
In a study published in June 2016 it was predicted that by 2021, 380 million "connected" vehicles will be on the roads. This includes everything from small family cars to large commercial vehicles, and this, in turn, is having an impact on customer expectations when it comes to what is available in aftermarket telematics systems.
Telematics providers like ourselves are focussing on the future of our industry and what we can provide for our customers. We are now looking at what we can deliver in five, even ten years' time, but right here and now our aim is to continue to bring the most accurate, useful data to the fingertips of all who use our systems.
To do this we are focussing on two key areas. The first of which is integration, ensuring that we are delivering a range of services that link seamlessly to improve workflow and processes. The second relates to in-cab offerings, enabling drivers to benefit from the telematics that were previously only available to managers back in the office.
The partnership between the Transport Exchange Group and Teletrac Navman is a good example of how integration and in-cab technologies are combining to improve efficiency and customer service. By combining the vehicle data with freight exchange, we've been able to improve workflow and processes so that operators can make better use of drivers and the time available to increase the number of completed jobs and satisfied customers.
The integration of telematics devices with other software applications is crucial to ensure that the whole process of assigning, delivering and completing a task is seamless. Freight exchanges, CRM and driver training can all be monitored and improved through clear, concise data that is available across the business.
Live in-vehicle video streaming is also linked to this, with insights into driver behaviour available to those back at the office for them to use for driver training. As well as playing a key role in improving driver behaviour, real-time footage has proven to be invaluable to numerous businesses when on road incidents occur, helping them to dismiss not at fault claims, protecting their insurance claims history and securing lower insurance premiums.
Changes in legislation
There are more and more vehicles on British roads and the introduction of London's congestion charge by the Mayor of London at the time was one way they attempted to reduce both the traffic and emissions in London. Since then, emissions have become a key part of vehicle tax and the powers that be are currently locked in negotiations over important issues like carbon dioxide emissions.
For instance, NICE, who are a part of the Department of Health, is advocating a smoother driving style for fleets to help reduce pollution generated by diesel vehicles in and around urban areas. The increased numbers of diesel vehicles and the subsequent emissions have created a number of health concerns, so anything that the various health organisations and transport businesses can do to reduce emissions is going to be beneficial.
Whether this particular proposal passes or not, telematics is likely to play a crucial role as fleet operators adapt to environmental regulations. Telemetry can be used in real-time by drivers and fleet managers in order to assess performance, with drivers being able to monitor the behaviours that impact fuel efficiency, including speeding, aggressive acceleration and harsh braking.
With direct Can-bus integration businesses using Telematics will also have a simple and accurate way of monitoring fleet-wide CO2 emissions, with the ability to measure CO2 output and fuel efficiency for individual vehicles and drivers.
Driver retention
The biggest issue affecting the transport industry as a whole is driver retention. The likes of the Freight Transport Association have identified a major concern about the acquisition of young drivers and encouraged those in the business to look for new ways to entice a new generation of drivers to train and take up driving positions over the next few years.
So what can telematics providers do to help fleet managers and transport bosses to retain their drivers? First and foremost, it's important that driver wellbeing is above everything else when it comes to the day-to-day running of the company. After all, a transport company is nothing without the people to actually drive the vehicles and make the collections and deliveries. Fleet operators, therefore, need to look for ways to create a working environment that enables them to retain their existing drivers as well as to attract the next generation.
Telematics can play a key role in creating an environment that will be attractive for drivers. It signals a commitment to continual improvement and when used to support driver training and performance incentives will build loyalty from a workforce. The transition for telematics to provide greater value to drivers will also be a key part of retaining and attracting new drivers. Having solutions which simplify workflow and administrative processes will ease the burden on drivers and demonstrates a commitment to their wellbeing.
Whilst Telematics can't directly affect the driver shortage it can help businesses build an environment that will stand out from the competition and ease the impact. Having a technology-[AP8] driven culture that simplifies business process and focuses investment on driver training will put your business in a strong position in a very competitive environment.
Looking forward to 2017…and beyond
These days we're faced with the constant demand to provide more and more for customers, and that isn't simply the telematics industry. Cars, televisions, mobile phones, computers, the list could go on and on. People love the latest innovations and they have an insatiable demand for the latest and greatest which makes it an incredibly exciting – and challenging – time for us all.
Innovation is enabling every business to look to the future, and from our perspective the future for telematics is bright and 2017 looks like another promising year for the technology.
As we've seen, we can expect companies to deploy telematics across a wide range of different areas - from cutting carbon emissions and bringing them into line with environmental regulations, to supporting in field operations by getting real time information where it is needed.
The benefits telematics offers in relation to safety, productivity and costs mean that further growth is likely in 2017 and beyond. Telematics provides an innovative and yet simple way to meet pressing, everyday business needs and it's not hard to see why it's rapidly becoming an industry standard.