After a long and challenging winter, it must come as something of a relief for fleets that spring is finally upon us. But if you were hoping that it would be all plain sailing from here (at least between now and next winter), you might want to think again.
It's true, of course, that the temperatures are rising and the evenings getting longer, and the latter in particular makes a difference. But spring comes with plenty of hazards of its own for those of us who regularly find ourselves out on the roads, and the old saying about April showers has more than a grain of truth to it. Wet roads can be highly dangerous, particularly when the proper precautions aren't taken. In fact, one particularly interesting finding is that the most dangerous time to drive is when the road surface is wet and it isn't raining. In these conditions, 21% of accidents are either fatal or serious – perhaps partly because of road glare, with the sunshine flaring up off the wet road.
So just what do fleet drivers need to know in order to drive safely this spring?
Which roads are the most dangerous?
Some regions, and some particular roads, are more dangerous than others when conditions are wet and treacherous. Of course, any road can be dangerous when adverse weather sets in and drivers don't pay due care and attention. However, a look at the relevant data gives us a good picture of where the biggest weather-related risks are likely to be found at this particular time of year – and also, just how elevated these risks are compared to dry conditions.
Fatal or serious accident rates spike when the road is wet but conditions are fine, 20.9% of accidents are serious or fatal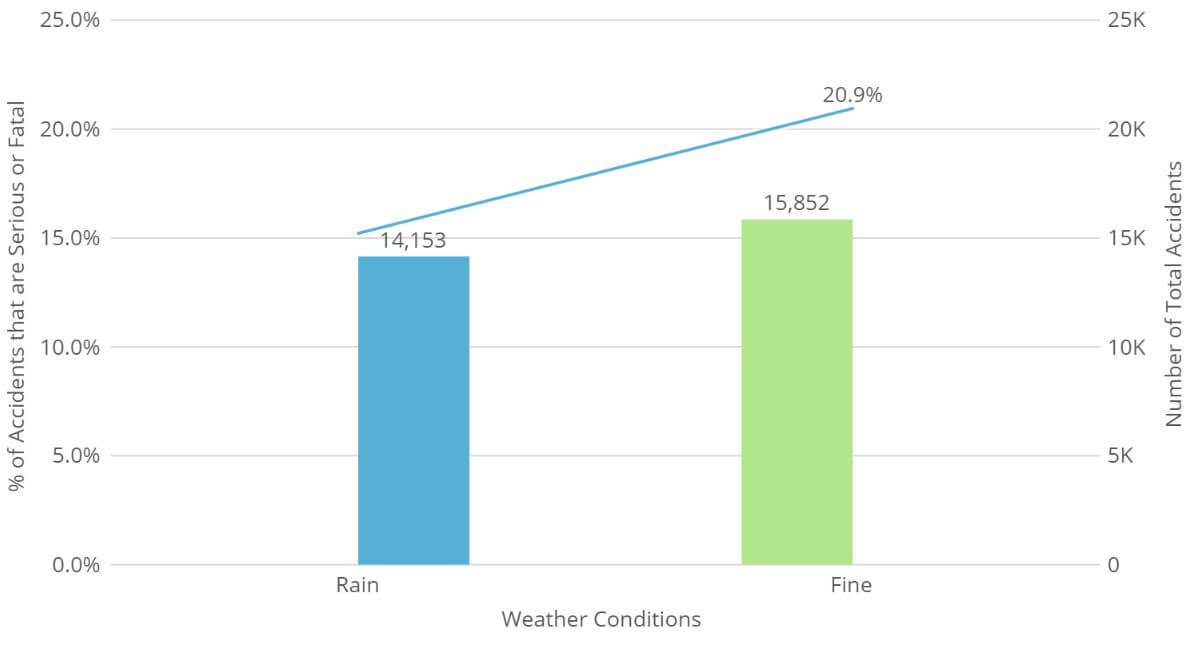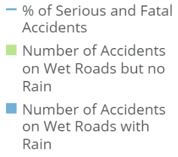 In 2008, the A38 – which runs between Mansfield and Bodmin, Cornwall – was named by the BBC as Britain's most crash-prone A-road. Indeed, more recent data appears to back that up; in 2016, it was the most crash-prone road under wet conditions with a total of 186 accidents, and a serious and fatal accident rate of 21.6% (the second-highest in the country). The A259 that runs through Littlehampton had a higher rate of serious and fatal accidents (24.6%).
A38 has the most serious or fatal accidents in wet weather conditions, and has a second highest rate of fatal or serious accidents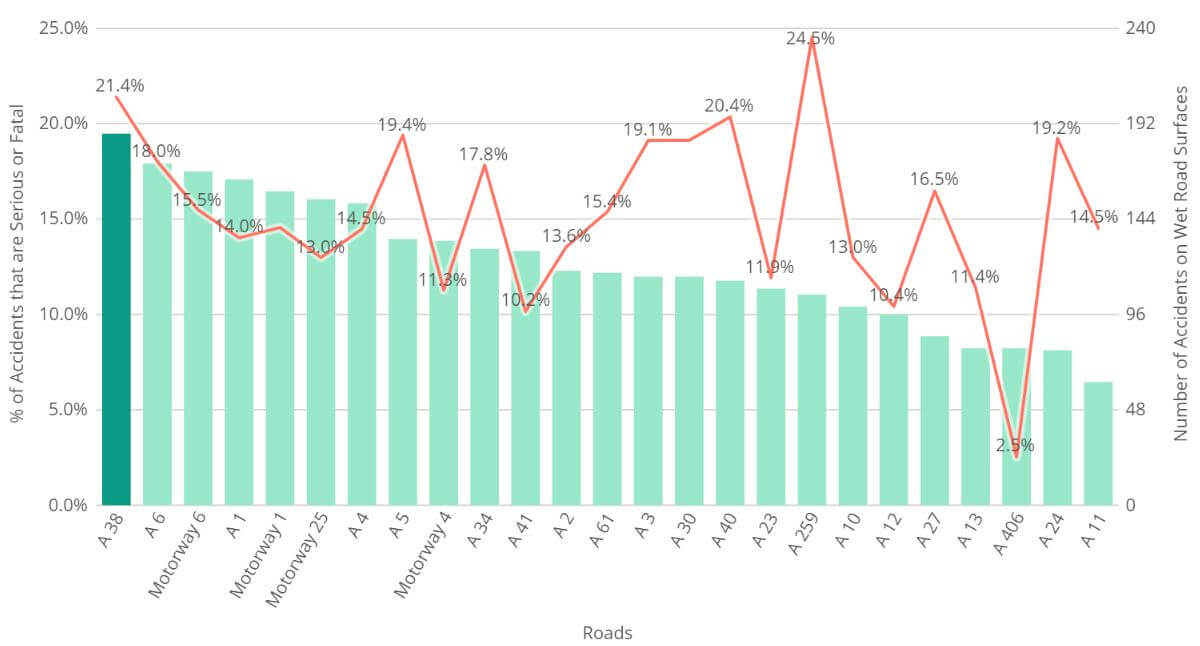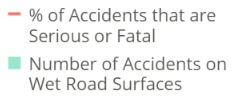 Perhaps unsurprisingly, the areas around Birmingham and Bristol were the most common accident blackspots on the A38 in wet weather conditions, with 21 and 14 accidents respectively in 2016. However, the highest percentage of fatal accidents was in Stroud.
When it wet the A38 is most dangerous in Birmingham, but Stroud has the highest serious or fatal accident rate (75%)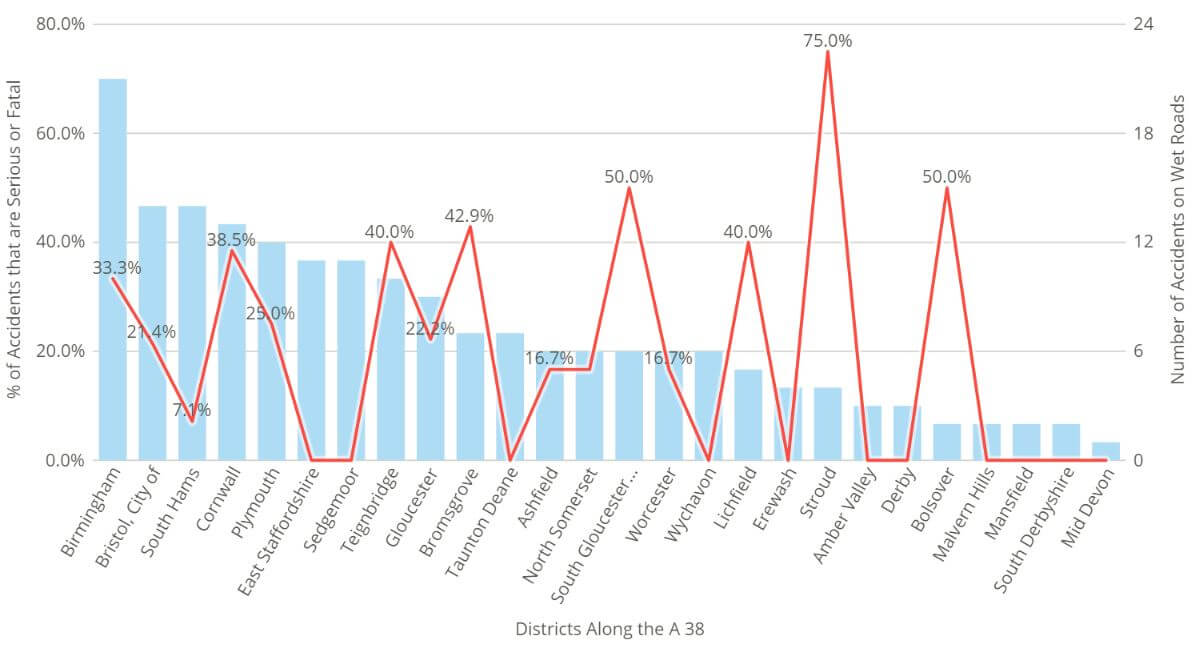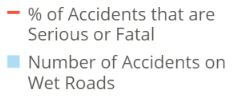 Birmingham had an accident rate of over 30% on wet road surfaces. Aberdeenshire, however, had by some distance the highest combined wet-road serious and fatal accident rate, which stood at an alarming 36.6% in 2016. This was almost 10% higher than the second most dangerous area, County Durham, with a rate of 27.1%.
When the roads are wet the serious or fatal accident rate is alarmingly high in Aberdeenshire (36.6%)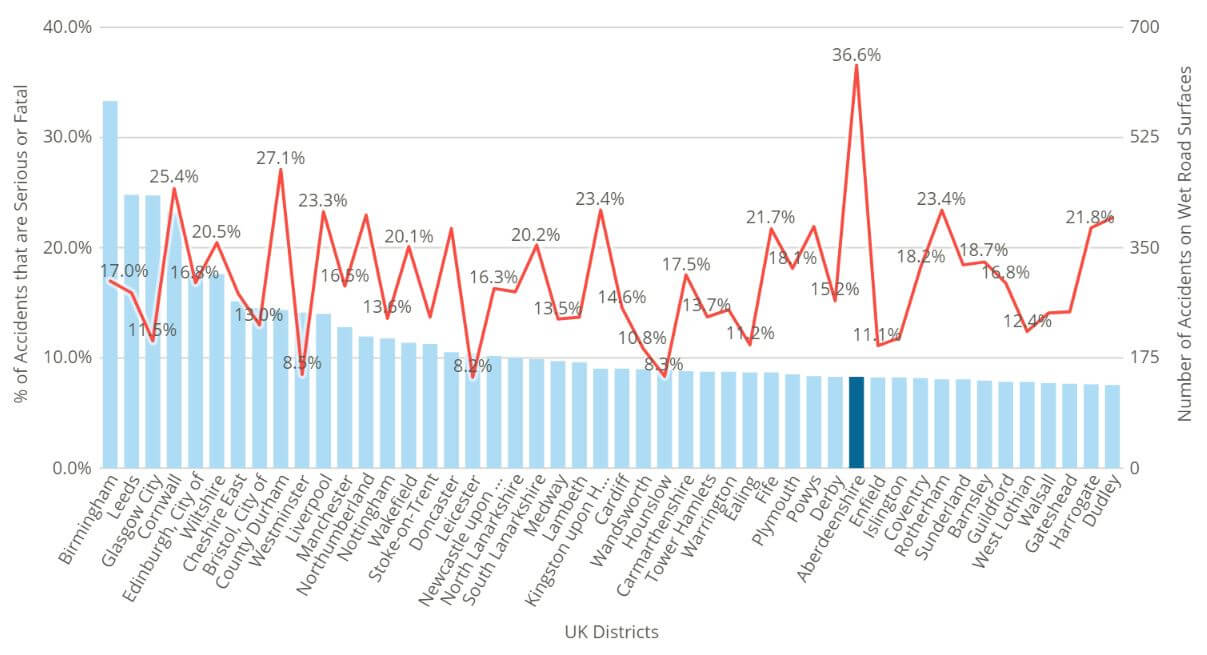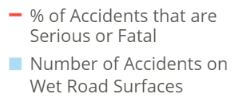 Even where 20-30mph speed limits apply, the fatality rate for accidents on wet roads is 15%. Needless to say, where these speed limits are higher, that fatality rate increases accordingly – although it does decline on roads with a speed limit of 70mph, though these roads are largely motorways which (despite the higher speeds) are relatively straightforward to drive on, with sharp curves and bends more or less entirely absent. In 50-60mph zones, however, serious and fatal accident rates can rise to above 20%. This may be partly because so many of these roads are either rural or urban single-carriageway roads.
60 mph roads have the highest serious or fatal accident rate in wet conditions (23.8%)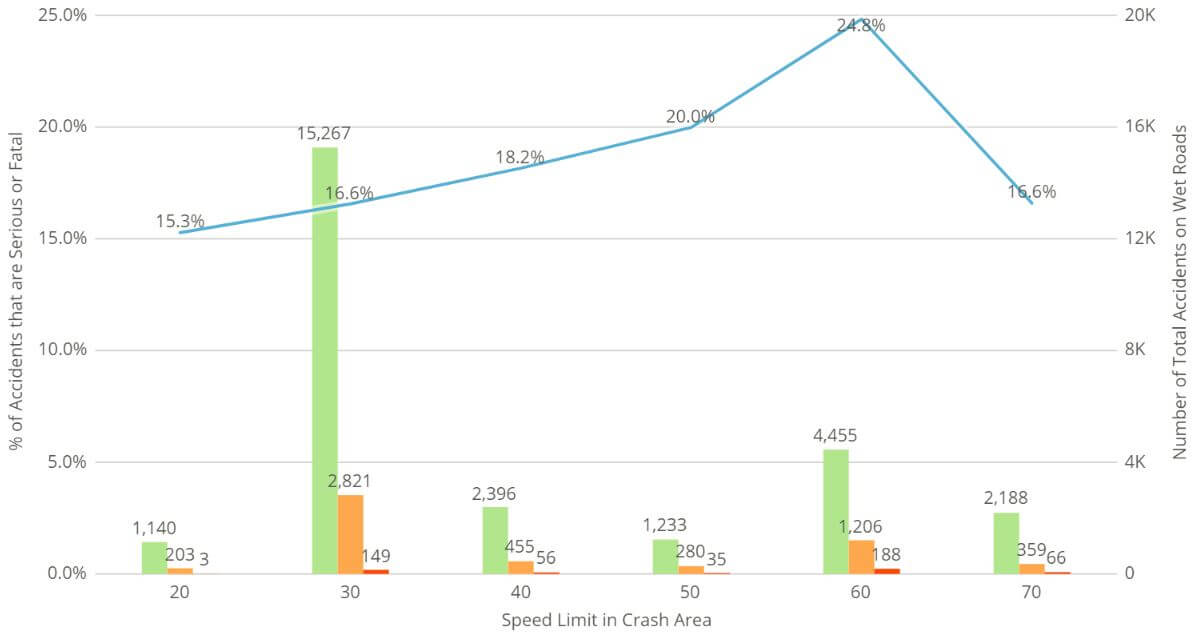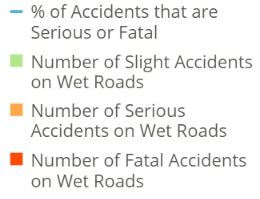 Staying safe on wet roads
There are also several general points to bear in mind when driving in showery April conditions. For a start, effective vehicle maintenance is essential. Tyres must be properly inflated and must have sufficient tread depth to provide adequate grip on slippery road surfaces. Fleet telematics systems have dramatically simplified the process of vehicle maintenance, by allowing managers to schedule checks and servicing regularly. This can help fleet operators ensure their vehicles are equipped for April showers.
Furthermore, drivers must properly take account of the conditions they're faced with. When road surfaces are wet and treacherous, drivers must alter their own conduct accordingly. Leave sufficient space from any vehicle in front, avoid harsh braking or rough cornering, and moderate speed. Again, telematics data can provide fleet managers with in-depth insights into the way their drivers behave on the road. If drivers consistently take unnecessary risks, particularly in wet weather conditions, fleet operators can take appropriate measures to deal with these behaviours (whether through training or, where necessary, disciplinary measures).
Fleet operators must therefore bear this sort of information in mind when planning delivery routes this month. GPS tracking systems allow for dynamic real-time route planning, making it possible to re-route vehicles away from roads that are likely to be particularly treacherous when wet. This technology has significantly enhanced the safety of drivers because of measures such as this.
A combination of good planning and safe driving should significantly reduce the risk of weather-related road accidents this spring – it's essential that both fleet managers and drivers uphold their respective duties.
Source: data.gov.uk