It's the balancing act that nobody saw coming; keeping your work load steady, as well as being super active, fun, creative parent-of-year.

But what happens if you throw some other ingredients into the mix? Key workers, conference calls, new-borns and not to mention… a global pandemic.
COVID-19 has changed the way the whole country works, literally. We've gone from sitting comfortably in our air-conditioned offices, dual screens and meeting rooms, to being sat at our home-made desks for 9 hours a day trying to stay motivated.
Some of us may be remote working, home-schooling or caring for toddlers, but we might also be balancing being a lone parent for a time being too. What happens if you're working from home full-time as normal, the children are at home 24/7 and your partner is a key worker?
The mere thought of that would give some of us a mild panic attack, but to others that's been daily life for most of 2020.
"Usually your kids are in school," says Jill Felska, Director of People and Culture at Limelight Health, "working remotely is a big enough change, but this is a completely new version of working from home."
For the most part, companies still operating in the UK are doing their best to find solutions that allow their workers to balance being parents and employees, whether that's through reduced working hours, split shifts or even via the government furlough scheme. And whilst most schools, nurseries and babysitters are virtually all closed for business also, this ability to work flexibly has been a welcomed relief to UK families.
So when it comes to going from Dad mode, to Mr Dad mode, what can help to get you in the mind-frame?
1. Set up a dedicated home office space
Your workspace is so important. You need to be comfortable, have enough room and natural light, but you also need to physically distance yourself from your living space. We don't mean move out onto the driveway, but try moving upstairs, or even in the conservatory to create a sense of boundary and new surroundings.
That said, it can be tough to separate yourself to that extent if you live in a smaller home, a flat or with other people. Try a little corner in your kitchen diner or even your garden, anywhere to give you a bit of a breather.
There's also no harm in putting up a "do not disturb" sign either. You could make it a project with your kids; who can make the coolest sign for Dad's office? Game on.
Whatever you do though, don't work from your sofa, or your bed. You may not be on a web cam call but none the less slouching about under the duvet will only make you more tired and less productive.
Top Tip: light a scented candle, the room will smell great and it's an in-office treat you'd never normally enjoy!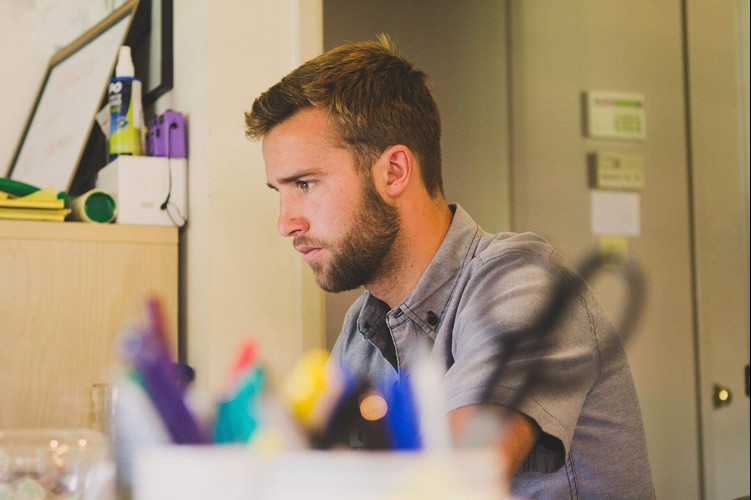 2. Make a rota
For those families home-schooling, try to switch up your hours with your other half so that the morning is spent with Mum, and the afternoon with Dad. It's okay to be creative here – there's no one strict rule per household so honestly, do what works for you. You may even fancy a full day as Teacher, and then a full day as Boss. Besides, who doesn't want to set up a live science experiment in the landing with Dad?!
Either way, having a chat with your business about it will be a great way to set up a routine that works and keeps you on track too.
Arguably even more important than this though, having this sort of structure in place can massively help employees build trust in their business – mutual respect is a huge positive in our working lives, and so knowing your team trust you in you to manage your time efficiently, without giving the choice between employee or parent, will result in a much happier and more engaged workforce.
Top Tip: Make a calendar and stick in on the fridge. Your kids can help design it and everyone knows what the plan is for the week ahead.
3. Wake up and smell the (extra strong) coffee
You might not fancy ironing a shirt each morning, but having a carved out morning routine is a great way to keep you focussed.
Whilst we'd all love to sit around in our pjs for 7 days straight, skip the odd shower and wear out the dry shampoo, falling into these habits will have a worse impact on your psyche than you think. Remember, you're still around your kids – it's important to set an example for them and show them the difference between "work time" and "family time." You're also likely to be on camera for most of your conference calls, and before you ask – no, a smart blouse doesn't count if you're rocking some jogging bottoms at the same time.
You want to get yourself into the office mindset, even if you're not physically there. A shower, breakfast and normal morning routine will make you feel so much better for doing that - promise.
Top Tip: Make a breakfast ritual with the family; eat your cereal together, fry-up Fridays or even start off with some morning music and a dance to Peppa Pig!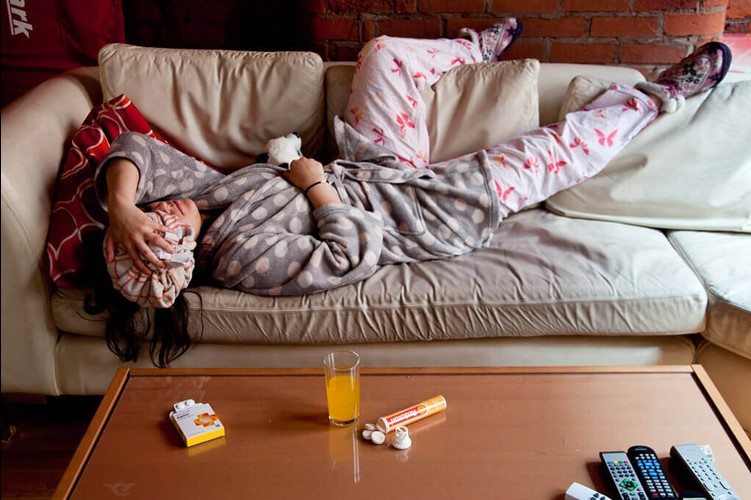 4. Take a lunch break
It's so easy for us to lose track of the time or get stuck on an overrunning call that eats away (no pun intended!) into our dinner hour. We've all been there where we've sat there ignoring the noises our bellies make because we "just want to finish something off first." Before you know it it's 5pm.
Try taking the first 10 minutes of your Monday looking at your calendar and block out an hour each day for you. Mark yourself as busy or out of office and don't let double book.
That time is yours, so get up, move about, go for a walk and most importantly – eat!
Top Tip: When in doubt, get the slow cooker out. A hearty meal with meat and veg is always a brilliant choice for tea, and switching it on at 8am means there's nothing else to prep for the rest of the day! Tomorrow's lunch? Slow cooked beef and mustard sarnies.
5. Be forgiving
If that one colleague who normally replies to your emails in 10 minutes flat is taking a bit longer than usual, don't stress – because you can bet that's what they're doing.
"Mum, I can't find my lego palm tree!"
"Dad, Fortnight isn't loading properly!"
"Mum, watch me colour in all twelve Disney princesses!"
"Dad, I've fallen off my bike!"
"Mum! Mum! MUM!"
"DAAAAAAAAAAD!"
Yeah… there's bound to be a lot of that. And it's more than likely that, to be honest, they won't say anything about it.
If you're away from your desk for 30 minutes breaking up a sibling rivalry then that's okay. Life happens, and families don't stop for anything.
Now isn't the time for micro-managing – be appreciative of other people's situations and give them a bit of slack. Expecting the same deadlines may not always be achievable, and no one wants to report out on the results of "Paw Patrol" in the field when it's meant to read "Cost Control!"
Top Tip: Remember, a bit of relief can go a long way. If it's something you can do quickly, or a task someone else is best suited at completing, delegate elsewhere. Be mindful of how busy people may be without them having to say so.
6. Don't worry about your web cam
Whether it's your clothes drying out on the airer or the dog running riot in the background, do not worry.
Video conferencing is at an all time high right now and there are a number of ways to navigate around the worries that being on camera brings. Try blurring your background, adding an animated scene or simply by starting off your call with an FYI. At the end of the day, this is your normal life that your colleagues are getting an insight into – normalise it.
Top Tip: Keep your mic on mute unless you're speaking. Your kids playing behind you is absolutely fine but a sing-a-long might not be part of the meeting agenda!
7. Knock the drinks down a notch
Even if you're feeling shattered after running around with the kids at lunch, try not to brew that third coffee of the day. Caffeine may be your best friend first thing in the morning, but relying on it constantly throughout the day could have the reverse effect.
Not only could it make your more irritable and have an impact on anxiety levels, but you'll also be awake all night let alone past 5pm when you should be winding down after your working day.
Top Tip: Invest in a water bottle, sip your way to the recommended daily intake and feel the benefits in just a few days.
8. Play the "quiet" game
Get your creative juices flowing by coming up with a series of games for the kids which keeps them silent. Give them a list of items to draw in the house, sit them in the garden and let them lounge about in a paddling pool, or better yet find a book they absolutely love and let them read.
Having some quiet time to let your mind rest will do you the world of good, and for those with children who're napping throughout the day – we're so not jealous at all!
Top Tip: Try a silent disco – give your little ones some earphones and playlist, then let them dance away whilst you're enjoying some peace. If you're feeling extra creative, then why not add a pack of glowsticks to your weekly shopping list? You'll be amazed at what fun you can have in a dark room and earphones in! 
---
9. Experiment with recipes
With no McDonalds, Subways or Meal Deals right on our doorsteps, there's never been a better chance to brush up on your cooking skills.
Rice dishes, wraps, jacket potatoes – you don't need to have a Michelin star to whip up a quick and healthy lunch during your working day, and you'll probably find that you save on your pennies anyway because your lunch is cheaper to make at home than buy every day!
You could even go healthy and swap your daily sandwich, crisps and a full fat coke for a huge salad, fish or a BBQ if the weathers decent. Not half bad having some fresh chicken skewers and a pasta salad for lunch, right?
Top Tip: Plan your weekly shop to include your lunch recipes, then work out how much you're saving each week by not eating out. Save that extra cash and by a cookbook (or a takeaway at the end of the week if you've done really well!) We won't judge.
10. It's alright to have a bad day
Some days are great, elating and you feel on top of the world! Super parent and employee of the year! But other days, you just want to sit in your dressing gown and sip Earl Grey in the dark until it's time for EastEnders.
No-one is expecting you to do absolutely everything, perfectly, on time, standing on one leg, juggling pinballs, whilst having wet sponges thrown at you. Take it easy on yourself and be gentle.
Just remember, no-one saw this change coming, so no-one expects you to be prepared!
Top Tip: Set yourself 1 small goal per day; finish that spreadsheet whilst it's nap-time, sign off that artwork while the tuna pasta is baking. Just 1 little achievement per day which when you hit it, will make you feel like the winner you really are.
So… from Dad to Mr Dad, is it even possible to keep your cool whilst navigating the most insane Cirque-De-Sole act 2020 could throw?
Yes, yes it is.
And you're doing a great job.