It might feel suspiciously like it never really started, but the British summer – and with it the holiday season and the festival season – is already drawing to a close. But before it ends, we do at least have the August bank holiday to look forward to in a couple of weeks (Bank Holiday Monday is August 28th, to be exact). However, for those who are working and likely to be out and about on the roads over that weekend - joining millions of others - there is considerable risk of disruption to traffic.
Fortunately, we're here and on hand to give you a quick heads-up on which roads are likely to be busiest over the August bank holiday weekend. If at all you can avoid the following potential traffic hotspots, it might well be worth doing so:
Reading and Leeds Festivals
Rounding off the festival season, Reading and Leeds are among the biggest events in the calendar. So expect considerable disruption on surrounding roads throughout the August bank holiday weekend – heading towards Leeds, the A1, A1(M) and M1 will be particularly busy, while near Reading, junction 11 and 12 of the M4 heading eastbound, junction 6 of the M3 and junction 9 of the M40 are the likeliest traffic hotspots.
Creamfields, Cheshire
Creamfields will see thousands of revellers descend on Daresbury, Cheshire, over the bank holiday weekend. It is therefore highly likely that surrounding roads will be seriously affected by the festivities – with the M56 around junction 11, the A56 (Chester Road) and the A558 (Daresbury Expressway) particularly at risk of disruption. Roads around Warrington may also be susceptible to lengthy delays.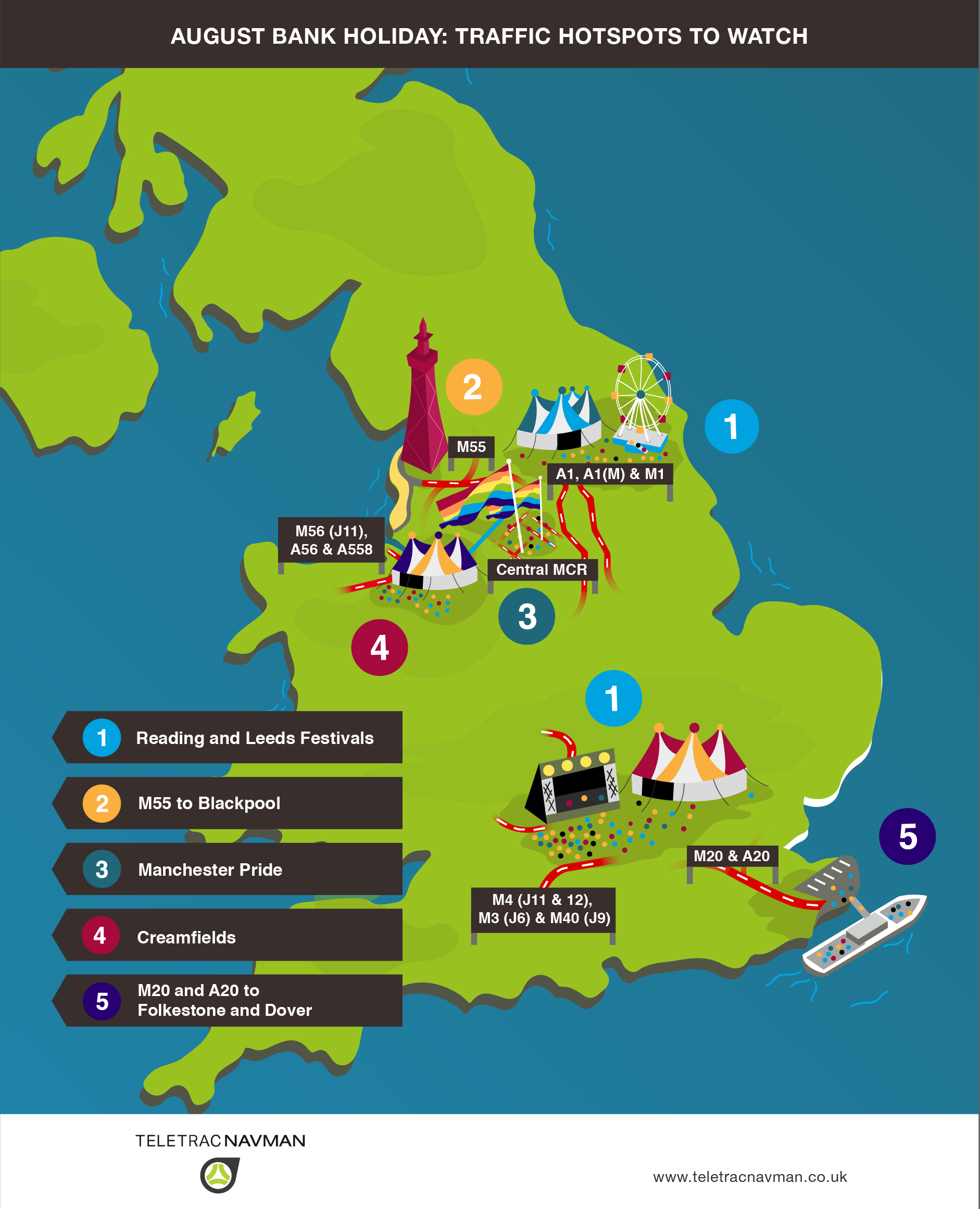 Manchester Pride
One of the largest Pride events in the country, Manchester Pride takes place every August bank holiday weekend – and because it's so popular, it is likely that there will be substantial disruption to traffic in and around Manchester city centre. The roads around Portland Street, Whitworth Street, Princess Street and Oxford Road are especially likely to be affected. There will be a programme of road closures in operation, so anyone planning to travel through central Manchester on the bank holiday weekend should pay close attention to the exact closures when they're announced – and prepare for delays.
M55 to Blackpool
Many families will take the opportunity to head to Blackpool for the bank holiday weekend, so traffic around the town may be subject to delays. The M55 in and out of Blackpool may be especially susceptible to major disruption, so if you're planning a seaside trip – whether for work or pleasure – over the bank holiday weekend, it's always advisable to give yourself plenty of time in which to get there.
M20 and A20 to Folkestone and Dover
There'll also be a lot of people making trips to the continent come the bank holiday weekend, so the M20 and A20 – to Folkestone and Dover respectively – are likely to be very busy. Travellers will be heading to Folkestone to take the Channel Tunnel to the continent, while others will be heading to mainland Europe via Dover. This all adds up to a significant risk of serious traffic jams, so plan your journey accordingly, or rearrange it if you can.
Of course, fleets across the country will continue working throughout the bank holiday weekend – so it's essential that fleet operators are kept abreast of any disruption where it occurs, and act accordingly to minimise the impact. GPS telematics can help fleet operators manage their resources appropriately, keeping them up to speed with traffic developments and allowing for dynamic routing as and when delays occur on the roads. This is just one of the reasons why telematics systems have become such valuable fleet management tools.