Trackstar Fleet
Now available as an addition to your Teletrac Navman fleet management platform*
The most effective and reliable way to ensure your vehicles are protected and recovered in the event of theft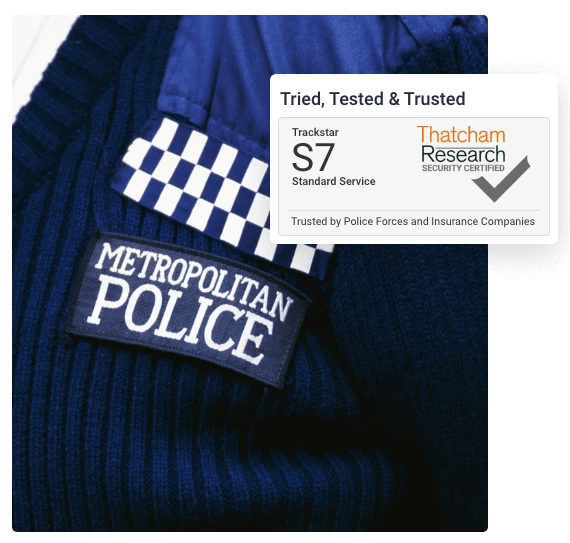 Trusted by UK Police Forces
As a Thatcham S7 approved industry leader, Trackstar Fleet have an established relationship with all 40 major UK Police Forces. This ensures that when a vehicle is registered as stolen through us, it's investigated as a matter of urgency. 
Many sectors such as services, hire and rental and the government, often require vehicles to be fully equipped with stolen vehicle tracking due to insurance requirements.
Installing our Trackstar Fleet device adheres to those requirements, protecting your business and your assets. Plus, our 90% vehicle recovery rate, gives you and your stakeholders peace of mind that your assets are more likely to be recovered, quicker and more efficiently.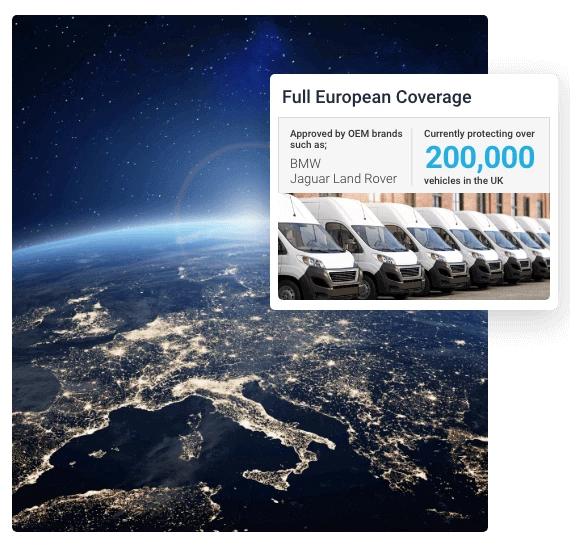 An industry leader 
Approved by leading OEM brands, Trackstar Fleet is the most effective and reliable tool to ensure your vehicles are protected and recovered in the event of theft.
We also have a 90% vehicle recovery rate, 1 second unauthorised movement alerts and a recognised brand name by insurance companies and the UK Police Force, you can rest assured that if any vehicles were to be stolen, you're in the very safest of hands.
What's more, it's now easier than ever before to safeguard your business, as Trackstar Fleet can be added directly onto your existing Teletrac Navman fleet management solution. Not only does this eliminate the need for on-site visits or additional embedded hardware, but also keeps cost significantly lower.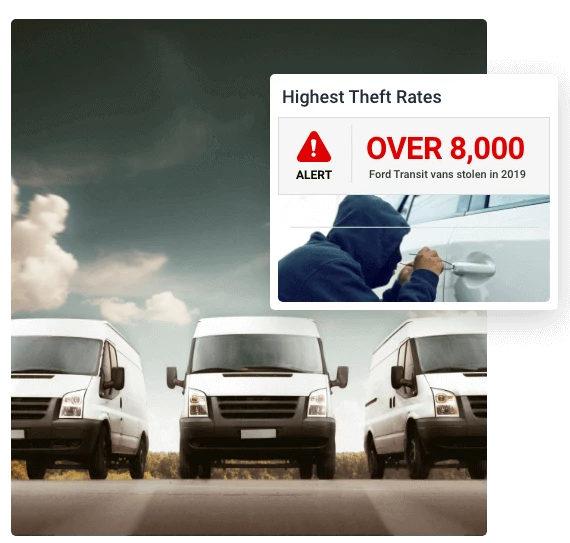 As demand sours, so do thefts
There are approximately 38,700,000 cars and vans in the UK, and out of that total, 120,000 are stolen every year. That's the equivalent of every 1 in 323 vehicles, illegally taken, leaving a business to operate on limited resource and struggle to recover their stolen goods.
But did you know that the most stolen van in the UK is the Ford Transit? Most will recognise this as the most popular small van typical of large fleets, though in 2019 alone over 8,000 Ford Transit vans were stolen.
What's more, the Ford Transit is also the most unlikely to have stolen vehicle tracking units installed, making it an easy target for vehicle theft.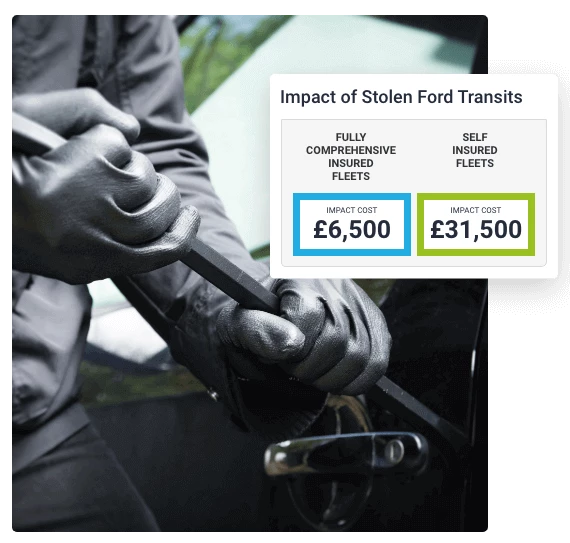 Cut off financial losses
In a time where demand has soured, transportation vehicles are the lifeline of many UK businesses today, so it comes as no surprise that they want to protect them as much as possible.
Trackstar Fleet offers businesses reassurance and complete support in the event of any vehicle theft, meaning that you can rest easy knowing our team of professionals will be working instantly to recover any losses. 
When compared to business cost for those with full comprehensive insured fleets vs. those who are self insured, the difference is substantial. With Trackstar Fleet, we're able to interject the process early, cutting off any unnecessary spend. For your bottom line, this means losing as little money as possible.
Currently protecting over 200,000 vehicles in the UK
Trackstar Fleet is a Thatcham S7 standard service which has been approved by OEM brands such as Ford, BMW and Jaguar Land Rover.
Trackstar Fleet allows you to:
Safeguard your high value assets and loads being transported.
Protect your businesses reputation for secure deliveries and assure your customers.
Rest easy knowing that in the event of a theft, our dedicated support centre takes over from then to the moment the vehicle is recovered.
Plus, TARA (Trackstar Automated Response Assistant) responds immediately, notifying parties that a theft is occurring.
Meaning you can avoid:
Fleet insurance costs escalating as a result of stolen vehicles history.
Costly delays in waiting for vehicle recovery, halting your business operations and causing financial repercussions.
High level entry costs for stolen vehicle tracking units.
The risk of worrying customers that their valuable goods are not protected. 
Unnecessary progress chasing and extra admin.
*Offering subject to existing fleet profile. Please speak to your Teletrac Navman representative for further information.
Your Success 
Intelligent support every step of the way
From solution design to implementation our objective is to help you create successful digital processes. It is the mission of our customer success and professional services teams to help you successfully deploy solutions that will generate a positive ROI in your business.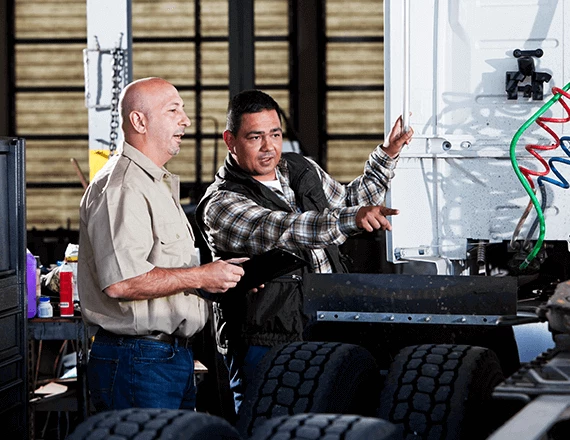 Related Resources
Learn more about mobility and digital transformation
Microsoft.CSharp.RuntimeBinder.RuntimeBinderException: Cannot perform runtime binding on a null reference
   at CallSite.Target(Closure , CallSite , Object )
   at System.Dynamic.UpdateDelegates.UpdateAndExecute1[T0,TRet](CallSite site, T0 arg0)
   at CallSite.Target(Closure , CallSite , Object )
   at ASP._Page_Views_MacroPartials_RecommendedResources_cshtml.Execute() in D:\vsites\teletrac.bsshost.me\httpdocs\Views\MacroPartials\RecommendedResources.cshtml:line 82
   at System.Web.WebPages.WebPageBase.ExecutePageHierarchy()
   at System.Web.Mvc.WebViewPage.ExecutePageHierarchy()
   at System.Web.WebPages.WebPageBase.ExecutePageHierarchy(WebPageContext pageContext, TextWriter writer, WebPageRenderingBase startPage)
   at System.Web.Mvc.RazorView.RenderView(ViewContext viewContext, TextWriter writer, Object instance)
   at System.Web.Mvc.BuildManagerCompiledView.Render(ViewContext viewContext, TextWriter writer)
   at Umbraco.Core.Profiling.ProfilingView.Render(ViewContext viewContext, TextWriter writer)
   at Umbraco.Web.Mvc.ControllerExtensions.RenderViewResultAsString(ControllerBase controller, ViewResultBase viewResult)
   at Umbraco.Web.Macros.PartialViewMacroEngine.Execute(MacroModel macro, IPublishedContent content)
   at Umbraco.Web.Macros.PartialViewMacroEngine.Execute(MacroModel macro, INode node)
   at umbraco.macro.LoadPartialViewMacro(MacroModel macro)
   at umbraco.macro.renderMacro(Hashtable pageElements, Int32 pageId)
   at Umbraco.Web.UmbracoComponentRenderer.RenderMacro(macro m, IDictionary`2 parameters, page umbracoPage)
   at Umbraco.Web.UmbracoComponentRenderer.RenderMacro(String alias, IDictionary`2 parameters, page umbracoPage)
   at Umbraco.Web.UmbracoComponentRenderer.RenderMacro(String alias, IDictionary`2 parameters)
   at Umbraco.Web.UmbracoHelper.RenderMacro(String alias, IDictionary`2 parameters)
   at ASP._Page_Views_Partials_grid_editors_Macro_cshtml.Execute() in D:\vsites\teletrac.bsshost.me\httpdocs\Views\Partials\grid\editors\Macro.cshtml:line 15
   at System.Web.WebPages.WebPageBase.ExecutePageHierarchy()
   at System.Web.Mvc.WebViewPage.ExecutePageHierarchy()
   at System.Web.WebPages.WebPageBase.ExecutePageHierarchy(WebPageContext pageContext, TextWriter writer, WebPageRenderingBase startPage)
   at System.Web.Mvc.RazorView.RenderView(ViewContext viewContext, TextWriter writer, Object instance)
   at System.Web.Mvc.BuildManagerCompiledView.Render(ViewContext viewContext, TextWriter writer)
   at Umbraco.Core.Profiling.ProfilingView.Render(ViewContext viewContext, TextWriter writer)
   at System.Web.Mvc.HtmlHelper.RenderPartialInternal(String partialViewName, ViewDataDictionary viewData, Object model, TextWriter writer, ViewEngineCollection viewEngineCollection)
   at System.Web.Mvc.Html.PartialExtensions.Partial(HtmlHelper htmlHelper, String partialViewName, Object model, ViewDataDictionary viewData)
   at System.Web.Mvc.Html.PartialExtensions.Partial(HtmlHelper htmlHelper, String partialViewName, Object model)
   at ASP._Page_Views_Partials_grid_editors_Base_cshtml.Execute() in D:\vsites\teletrac.bsshost.me\httpdocs\Views\Partials\grid\editors\Base.cshtml:line 20