Freight exchange
ABOUT RETURNLOADS.NET
Returnloads.net is the leading freight exchange in the UK for the road haulage industry. The integration with Teletrac Navman telematics enables members to find available loads easier and see where their vehicles and loads are at all times.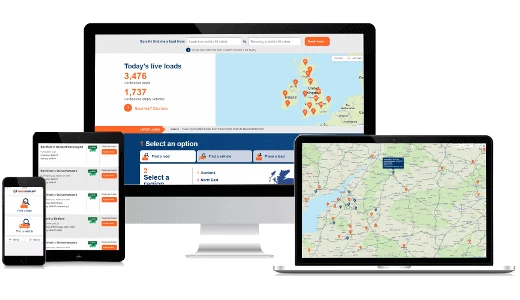 Live data
FILL YOUR EMPTY VEHICLES
Match live loads with empty vehicle locations to maximise your available capacity and fill your vehicles on otherwise empty journeys. Instant freight alerts will notify you when a load is added that matches your vehicle type and location ensuring you never miss an opportunity to find relevant delivery jobs.
Grow your business
GROW YOUR BUSINESS
Take on more delivery work without the need to increase your fleet by utilising the resources available on Returnloads.net. Thousands of independent drivers and haulers use our freight exchange every day to find loads making it the perfect place to subcontract out any excess loads helping you grow your business.